NYC based portrait and fashion photographer Jeff Rojas is a big fan of simplicity. His educational YouTube channel is called KISSFOTO, presumably for the "keep it simple" philosophy, and he's been known to post photos on social media with his "Super Simple Setup" instructions. In keeping with this style, he's often touted the virtues of single light setups and has just released a new video tutorial teaching just that: a one light men's portrait.
A great thing about Jeff's tutorials for the photographer with a limited budget, beyond the fact that the "less is more" approach has the bonus of reduced costs to produce images, is is he'll often work with less expensive gear and demonstrate the professional results you can achieve without dropping all your hard earned cash on equipment from the big brands or flagship models.
For this portrait setup, Jeff is using a Phottix Indra 360, one of the first strobes to follow Profoto into battery powered portable strobe territory with a lower price tag.  The modifier he's chosen is a 59 inch Phottix Hexa-Para softbox, and here's the set up:
He's positioned the light about a foot and a half above the subject, angled down, and placed the subject toward the back of the softbox where the light is beginning to feather, and lets the light that falls in front of the subject fill shadows. He's using black seamless paper for a backdrop, with the subject placed 5-6 feet away. That's it! Doesn't get much more simple than that.
The camera and lens used are a Canon 7D Mark II and Tamron 24-70 f/2.8, and while not cheap gear it's still not the top-shelf stuff many of us can only drool over wishfully.
With respect for your time as a viewer, Jeff's super simple setup is demonstrated in a super short video, just over two minutes. Have a watch!
You can find more from Jeff on his site.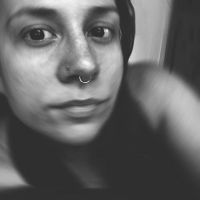 Holly Roa
Seattle based photographer with a side of videography, specializing in work involving animals, but basically a Jill of all trades. Instagram:
@HJRphotos