Our "SLR Lounge Artist Feature" articles highlight some of the very best photographers in the world. This article features Kate Woodman of katewoodman.com (Portland, Oregon, USA). Kate is well-known for her conceptual work and color. As an internationally renown portrait photographer, Kate specializes in landscape, fashion, and commercial photography. Read on as Kate talks about her journey into photography. She also breaks down one of her well-known photographs and gives some advice for photographers newer to the industry.
We so appreciate you taking the time to talk with us Kate. Tell us about how you first got into photography.
Like most photographers, I fell into photography by happy accident. Prior to being a photographer, I was a structural engineer. I was on assignment in New Zealand doing earthquake damage assessment. Every weekend we would go out and explore new places. I'd bring my camera along. It's obviously beautiful there. Consequently, I got really into landscape photography. When I got back to the slightly-less-impressive landscapes of Philadelphia, I figured I'd try my hand at making portraits instead. The rest, as they say, is history.
Has your background/training in structural engineering influenced your work in any particular ways?
I don't know if I have any examples of a direct correlation between photography and engineering. It's really more about a problem solving mindset. I know how to utilize the available variables to make something work. I have good problem solving abilities and can use that skill to create a look that I want, even if I don't have all the necessary tools  at hand. … Being an engineer means being innovative. A lot of photographers get too bogged down by trying to use the 'right' lighting setup, focal length, etc. I tend to not get too obsessed with those things. I think allows for more creativity.
How did you develop your particular style?
I wish I could give you a definitive breakdown of how I arrived at my style. Truth be told, it kind of just happened. With regard to composition, I do consistently tend to photograph a bit wider. Now, that is probably a result of starting with landscapes and then moving into relatively small, confined spaces. Overall, I prefer to photograph in landscape orientation. I will even crop to 16:9, to give my photographs a cinematic feel, likely due to my obsession with movies.

As far as lighting is concerned, I like to keep 'motivated.' That is to say, while it may be lit, it will look natural enough that you're focused (hopefully) more on the story than on the lighting.

Regarding color, which is probably what I'm most known for, I think my inspiration definitely comes from classical paintings … I really like warm, gold tones. Paintings tends to have this quality—a more muted color palette and more color in the shadows and highlights. Quite simply, that's due to limited pigment availability. I guess that's something I try to recreate in my own work.
We'd love for you to breakdown one of your favorite photographs for us.
I think my favorite photograph I've ever taken is the one of a woman lying in front of a fireplace and a man in a suit at the front door (see photograph above). In fact, I created this photograph in my house, with the background lit naturally around three in the afternoon. It was just the right time of day. The light created these really interesting shadow patterns on the wall. I photographed the models in the same location, but at a different time. …

It's probably one of my most successful composites. I love the tones—that warm vintage gold tone. But most of all I love that everyone I talk to about this photograph has a different interpretation of what is actually occurring here. Is the man leaving or coming back? Is the woman desperate for his attention, or is she seducing him? Everyone has their own story for what the photograph says. And that, to me, means that this is a successful piece of art. It is relatable to a multitude of people in a variety of different ways.
What advice do you have for photographers newer to the industry?
First of all, I want to say to anyone out there frustrated by their progress or worried about finding their 'style': photography is a personal journey. It requires you to dig deep and find inspiration that comes from personal experience and preference. It's not always easy or comfortable. I see a lot of newer photographers focusing so much on technical details or trying to fit themselves in this small box of what the industry tells them to do. As a result, I see them start to lose sight of what makes photography successful—their own individuality. If you do what makes the most sense for you, people will eventually start to recognize and covet that.
You can check out more of Kate's work on her website. Also, be sure to give her a like on Facebook and a follow on Instagram as well. Finally, you can learn more about upcoming educational opportunities with Kate here. And check out a bit more about Kate on YouTube by clicking on the video below.
Thanks for checking out our latest artist feature! Quick reminder before you go! Don't forget to submit by the March 31 deadline to be considered for SLR Lounge's March 2019 awards competition. Remember that anyone can sign up for an SLR Lounge account for free and submit. However, Premium Members are able to submit up to three photographs each month!
All photographs are copyrighted by Kate Woodman of katewoodman.com and have been used with permission for SLR Lounge. Therefore, do not copy, modify, or re-post this article, or the included photographs, without express permission from SLR Lounge and the artist.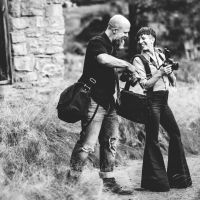 Amii & Andy Kauth
Amii & Andy are a wife and husband team of rad portrait and wedding photographers (Sunshine & Reign Photography) who absolutely love life and are generally just stoked! Yeah! When they aren't photographing or writing and teaching about photography, you'll find them off on a seriously legit adventure with their little ones, lifting weights in their garage, training jiu-jitsu, refining their archery skills, or surfing every chance they get. And on the rare chance they escape off on a "date night"? Yep! They'll find a wedding to crash (true fact). Website:
Sunshine & Reign Photography
Instagram:
@sunshineandreign