Our "SLR Lounge & Fundy Designer Artist Feature" collaboration articles highlight some of the very best wedding photographers in the world. This article features Kate Hopewell-Smith, who manages multiple photography brands under the Kate Hopewell-Smith umbrella, together with Brent Kirkman: katehopewellsmith.com; bylumiere.co.uk; and trainingbylumiere.co.uk. Kate is also a UK Fundy Designer Ambassador.
Read on as Kate shares how she and Brent are able to manage several photography businesses simultaneously!
Which brands are the current focus of your photography business? Please, describe them for us.

First, we have katehopewellsmith.com, a high-end wedding, boudoir, and portrait photography business, which we describe as 'fine art storytelling.' I launched it in 2010.

Next, there is bylumiere.co.uk, which is a newer brand for us. It is a luxury destination photography business that specializes in the combined offering of photography, film, and aerial work. Our goal with this brand is 'crafting beautiful stories.'

Finally, we have trainingbylumiere.co.uk. Training by Lumiere offers an alternative experience to the traditional photography education system for those interested in a professional career in photography. The focus is on face-to-face, intimate, and supportive training.
What tips do you have for those considering starting an addtional photography brand? How do you juggle multiple photography brands/businesses?

You definitely need to have a strong team. We like to say that every business needs three personalities to survive, and evolve: the technician (the doer), the manager, and the entrepreneur.   Together, we are a fantastic team; whereas, alone we are not nearly as strong.
You have to accept that it is okay for you to only be 'on' one business (fully) at any one time. This is a reality we had to learn, but it is a reality that has certainly helped us manage our businesses better.
You have to have a proper work-life balance. Now, that absolutely takes managing, and a commitment to quality

down-time!

You absolutely have to set aside time on a weekly basis for 'accounting time.' Keeping on top of the accounts (and cash flow) is essential.
Finally, you have to use your personal strengths and knowledge and share it across the businesses. Implementing similar developments across all the businesses is key. For example, Brent has learned an enormous amount about SEO, which allowed him to build one of our newer training websites from scratch.

*Bonus Tip! It is essential to focus on your individual, core skills. So, do those to the best of your ability rather than diversifying and spreading yourself too thin.
What do you love most about working together?

On nearly every job, we hear clients and fellow vendors comment on how they couldn't work with their partners. However, we are incredibly compatible. And we love being with each other. and complement the other perfectly. We never compete!
What are you most excited about for the remainder of 2018?

We're getting married, and we're very excited to be on the other side of the camera for a change! Moreover, we have chosen to have a wedding that is very different from the majority that we shoot and are so excited!
You can see more of Kate's work on her website. As well, be sure to check out her work on Facebook! We are also looking forward to having both Kate and Brent join us live on Facebook on Monday, July 2 at 11:00 a.m. (MST). For other live sessions, check out the Facebook Live schedule here.
Also, check out the updated list of partner discounts available for SLR Lounge Premium Members. You can, for example, save $50 on Fundy Designer's "Pro Suite" or "Album Suite." You can see those discounts by clicking here! And, finally, don't forget that you have until the July 31 deadline to be considered for SLR Lounge's July 2018 awards competition!
All photographs are copyrighted by Kate Hopewell-Smith of katehopewellsmith.com and have been used with permission for SLR Lounge. Do not copy, modify, or re-post this article or the included photographs without express permission from SLR Lounge and the artist.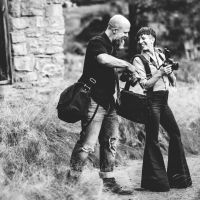 Amii & Andy Kauth
Amii & Andy are a wife and husband team of rad portrait and wedding photographers (Sunshine & Reign Photography) who absolutely love life and are generally just stoked! Yeah! When they aren't photographing or writing and teaching about photography, you'll find them off on a seriously legit adventure with their little ones, lifting weights in their garage, training jiu-jitsu, refining their archery skills, or surfing every chance they get. And on the rare chance they escape off on a "date night"? Yep! They'll find a wedding to crash (true fact). Website:
Sunshine & Reign Photography
Instagram:
@sunshineandreign