Our "SLR Lounge & Fundy Designer Artist Feature" collaboration articles highlight some of the very best photographers in the world. This article features Heiko and Cati Schmidt of . Just . Schmidt . (Hamburg, Germany). Heiko and Cati were named one of Rangefinder Magazine's "30 Rising Stars of Wedding Photography" in 2018. Additionally, they were named "2018 Wedding Photographer of the Year" by Masters of Wedding Photography Germany and finished in the "Top 12" in the ISPWP 2018 competition. They took time to talk with us about their photography journey. As well, they offer some advice for those looking to step out of a more traditional style of wedding photography.
Wow! So great to have you for a feature, Heiko and Cati. First, we'd love for you to tell us a bit about you and your business.
So, twenty years ago Heiko did a lot of travel and news photography. We met, and things changed. We became parents. When digital photography took over, Heiko kind of lost his love for photography. However, over time, it came back. Heiko got into wedding photography and Cati joined in. Since then we have never looked back.
It's interesting how most wedding photographers just seem to fall into the genre. You have an awesome style that we would probably say is fine art, but definitely on the fringe … in the most beautiful way possible. How did you develop your style of wedding photography?
We have been known for our documentary style and dramatic off camera flash shots (we actually wrote a book about it). But somehow, sometimes we ended up with photographs that were different and that we felt connected to on a different, a deeper level. Together, we sat down and tried to figure out what it was. This threw us in some sort of crisis, and we started to question everything about our photography. We felt the 'need' to photograph in this way, a way we connected to (even if that could mean fewer clients would like it). And we decided to commit to this 'new style.' Finally, we created a completely new brand and renamed our business to . Just . Schmidt ..
You sent over some amazing photographs for this feature. Could you talk to us about one of them? What's the story behind it? Why is it a favorite? Why is it a good representation of your brand and your photography?
Well, we actually would not say that we have a favorite. In fact, we are always most interested in the next photographs we are going to take. But this one with the dress and the hand we really like [see photograph above]. Our photographs are always candid. Here, the bride was about to leave the ceremony and reached back to adjust her dress. It was just a very short moment. The light came from a window to the left and was just perfect. Overall, we like it because of the minimalistic style and the way it lets your mind wander.
For photographers looking to step out of a more traditional style of wedding photography (lots of posing, not a lot of moments, etc.), what are your best tips? Or what are your best tips for developing a more documentary, minimalistic style (the style for which you are known)?
First, do not only shoot for your client. Always make sure you get photographs for yourself as well. Why? You will be able to show these photographs in your portfolio, and they will attract clients that fit better with they style that you really want.
Don't be afraid of experimenting, and don't be afraid of making mistakes. With each thing you do wrong, you might discover something new.
'Fail forward!' Go out and photograph. Grab a friend and do something totally new to you. Photograph only at f8, or only with shutter speeds longer then 1/10 of a second. Photograph at noon and try to get something really good out of it. Push your limits.
Also, look back at an older wedding, or any other collection of photographs you have. Look at all the photographs you took, before you culled them. Listen to good music and try to feel, really feel. Try to 'see' differently, and take your time. Maybe you will find something, something that you did not know was already there.
Finally, don't be afraid of being different. Don't be afraid of discovering your extremes. As a professional, you need to sell your work, but what you discover for yourself can influence your professional work on many different levels.
You are Fundy Storytellers; what is it about Fundy Designer that helps you in your wedding photography workflow?
Above all, when we asked our friends and colleagues which album design software we should get, we mostly heard one name: Fundy. Due to hearing words like professional, user friendly, and fast, we checked it out. Once we got it running and had watched the introductory videos, we had our first Fundy-designed wedding album designed in less then 30 minutes. Overall, it's very fast, very user-friendly, and, yes, professional.
Thanks for sharing that! Okay, last questions! What do you love the most about being photographers … and is there anything else you'd like to share with the SLR Lounge and Fundy Designer audiences?
We both like to express ourselves in our work. For us, photography is not only about our clients, but it is also about us, and what we feel. Cati is a singer/songwriter, but for Heiko this is his only creative outlet. Therefore, Heiko kind of needs all of this to stay sane. And we'll leave you all with a quote by Albert Schweitzer, which we have up on a wall in our home: 'Success is not the key to happiness; happiness is the key to success. If you love what you are doing, you will be successful.'
Want to learn more about Heiko and Cati and . Just . Schmidt.? Of course you do! And you'll find all sorts of rad stuff going on over at their website . Just . Schmidt ., including a variety of workshops. Also, be sure to check them out on Instagram as well!
Finally, check out the updated list of partner discounts available for SLR Lounge Premium Members. For example, you can save $50 on Fundy Designer's "Pro Suite" or "Album Suite." You can see those discounts by clicking here, and don't forget that you have until the March 31 deadline to be considered for SLR Lounge's March 31 2019 awards competition!
All photographs are copyrighted by Heiko and Cati Schmidt of . Just . Schmidt . and have been used with permission for SLR Lounge. Do not copy, modify, or re-post this article, or the included photographs, without express permission from SLR Lounge and the artist.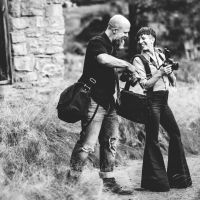 Amii & Andy Kauth
Amii & Andy are a wife and husband team of rad portrait and wedding photographers (Sunshine & Reign Photography) who absolutely love life and are generally just stoked! Yeah! When they aren't photographing or writing and teaching about photography, you'll find them off on a seriously legit adventure with their little ones, lifting weights in their garage, training jiu-jitsu, refining their archery skills, or surfing every chance they get. And on the rare chance they escape off on a "date night"? Yep! They'll find a wedding to crash (true fact). Website:
Sunshine & Reign Photography
Instagram:
@sunshineandreign