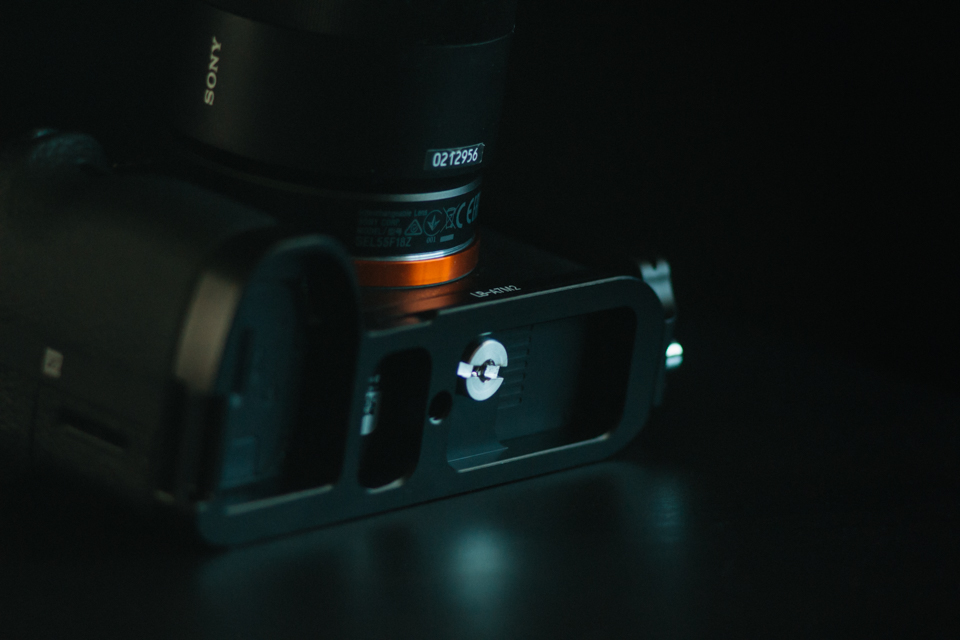 I am a huge fan of the Arca Swiss quick release ecosystem. It's simple and stupid easy to use. All of my cameras get an Arca Swiss compatible tripod plate and my tripods all use Arca Swiss compatible heads. One thing has always annoyed me with quick release plates though, not just Arca Swiss plates, is that they all twist, which makes mounting your camera straight a pain.
The solution to this problem is camera specific L brackets. These brackets are machined to fit your camera like a glove, and thus no twist or other alignment issues occur like with universal quick release plates. Unfortunately, most L brackets are made by high-quality companies like Really Right Stuff and Kirk Enterprises, which cost an insane amount of money (in my opinion).
I have been patiently waiting for cheap brands to catch up and release a Sony A7 II bracket, and to my utter joy, just a few weeks ago, the first Chinese A7 II L bracket hit Amazon. Being as I was not going to spent a $135 on a Really Right Stuff bracket, I figured the $29.99 JTZ branded bracket was a good alternative. Today, I am going to share my thoughts on this alternative to the expensive brackets produced here in the US.
JTZ Quick Release L Plate Bracket Grip for Sony A7 II Review
My first impression of the JTX bracket, when I pulled it out of its packaging, was that it was much lighter than I was expecting. The bracket is made out of aircraft grade aluminum, and despite the considerable weight of the RRS (Really Right Stuff) brackets, the JTZ brand was actually quite light wight.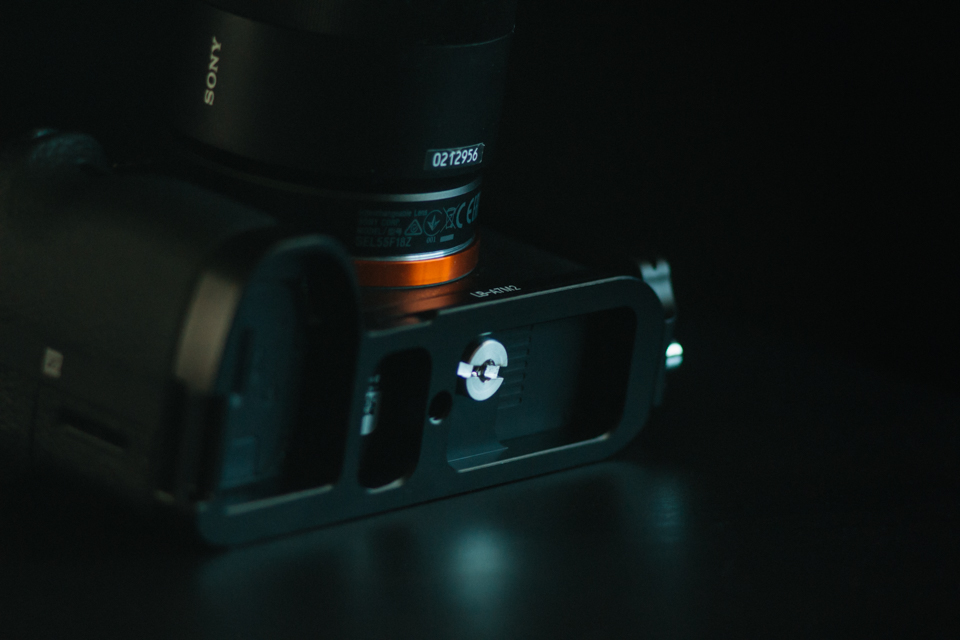 The real test with these off brand products is quality control though, and so I eagerly used the supplied Allen key and screwed the bracket to my Sony A7 II. It fit like a glove; no wobble or any sign an incorrect fit. So far, so good.
The next test would be to see if the bracket actually mounted correctly on an Arca Swiss tripod head. So I grabbed my MeFoto tripod, which comes with an Arca Swiss head and placed my A7II with the attached L Bracket onto the head. I turned the tension screw to tighten the bracket down on the head, and sure enough, the unit fit perfectly there as well. I even picked up the tripod, flipped it upside down, shook it, and waved it in the air. The camera didn't move at all. It was safe and secure on the tripod head, right where I left it.
An added benefit to this bracket design over the RRS bracket is that it extends all the way over to the grip, giving you about another half-inch or so for your pinkie, making the camera surprisingly more comfortable to hold. That said, it was not all rainbows and lollipops.
The one thing that does bug me about the JTZ bracket is the implementation of the side bracket. Unlike the RRS model, which does not cover the full side of the camera, the JTZ model does. This is both good and bad in my book. Good because it's extra protection if you drop the camera on that side. Bad because it can make accessing your ports a little bit of a pain, especially the audio ports.
Getting the USB and HDMI ports open is easy enough, but the top of the side bracket makes accessing the further audio ports a bit more tricky. That said, it's not a huge issue for someone like me who rarely has a need for those ports.
JTZ A7 II Bracket Specs
L Plate Custom Designed for Sony A7 II camera, perfect match for the camera body, won't sway or twist when mounted on the bracket

Arca-Swiss standard dovetails, both the base plate and vertical plate are 100% compatible with RRS lever-release clamp

The base plate has reserved extra 1/4"-20 threaded mounting hole for additional functions (like a Black Rapid or other Strap that uses a 1/4″ -20 thread)

Allows full access to the flip screen

Compatibility: Standard Arca-Swiss dovetails, compatible with Arca Swiss, RRS, Kirk, Wimberley, Markins, Sunwayfoto, Benro, Suri, Fotopro… brands with AS stardard
To recap, here are my general impressions and thoughts on the JTZ A7 II Bracket in an easy to digest 'What I like' and 'What I Dislike' list.
What I Like About the JTZ A7 II Bracket
It's affordable!
It fits perfectly, but your mileage may vary
Saves me from mucking around with generic tripod plates
What I Dislike About the JTZ A7 II Bracket
Access to ports is not as easy as I would like
Design of side bracket leaves the top strap attachment in an awkward position.
Overall, for the price I paid, and the convenience that this L Bracket gives me, I would be hard pressed to not be impressed by this purchase. I saved myself over $100 off the RRS model and got a design that I actually prefer, adding a bit of size to my A7 II for a slightly more comfortable grip.
You can find the JTZ A7 II bracket over on Amazon now for just $29.99, but be warned, they do ship directly out of China, and the published shipping times look ridiculous. I wasn't expecting mine to show up until July, but was pleasantly surprised when it actually only took about 5 business days to arrive.
If you are like me and are not too keen on paying over $100 for an RRS or Kirk style bracket then I highly suggest checking out the JTZ branded brackets. Based on my experience with this bracket, I would buy from them again in a heartbeat.