In the age of DM over text, text over voice, and screens over skin, the thought of approaching a stranger, entering their personal space, asking to take a memory of it could be considered a positively daring, if not alien move. "Can I take your photograph?" is brave. It's tantamount to asking for punishment. But maybe that's why it's so rewarding when it goes right.
It's not a stretch to say that even for the most seasoned photographers, street photography and approaching random subjects remains a bit of a knee-trembling endeavor, and that's possibly more true now than it was 20 years ago given how sensitive and suspicious we have become. Dealing with police is also something to consider and something the crew ran into here. But like all difficult things, it's the things that make us nervous and that we avoid that we should probably most do.
The whole concept of photographing strangers is an exercise that's autotelic. The moment you decide to do it you begin to think about and see how important personality and approach is in our field. You may take notice of how body language could affect a subject, how to read theirs, and learn quickly just how important interacting is. You get a taste of it in this video.
It's a bit of a departure from her usual, but in this video Jessica Kobeissi and crew head to the streets of Los Angeles offering free portraits, and it's an interesting watch. For one, she's a woman and most men would probably agree that women tend to come across less threatening and more approachable, and yet even she is frequently ignored.
The crew move quickly from using signs to show their purpose (which didn't do well), to realizing they had to actively approach individuals. Hopefully it'll make you feel better about doing it yourself and prime you for the rejections you're sure to have.
In addition it's interesting to see how the different photographers interact with and ultimately photograph the subjects. To interject my own opinion here it stood out to me that Jessica's images were, in fact, the strongest, and most striking. From the angles, pose direction, use of backlight and expressions captured, it spoke to her experience shooting models and making someone look their best.
It's a casual fun video. Check it out.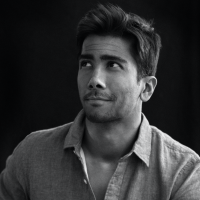 Kishore Sawh
A photographer and writer based in Miami, he can often be found at dog parks, and airports in London and Toronto. He is also a tremendous fan of flossing and the happiest guy around when the company's good.