Our "SLR Lounge Awards Artist Feature" articles highlight SLR Lounge Awards winners, some of the very best wedding photographers around the globe. This article features Jesse La Plante, who along with his wife Moira Kennedy, owns and operates J. La Plante Photo (Boulder, Colorado, USA). Jesse is an internationally recognized, multiple platform award-winning wedding photographer, well known for his vibrant photography and for specializing in photographing the stars and his couples.
Jesse entered his Apex Award-winning photograph into the wedding portraiture category in July. SLR Lounge's curators select the Apex Awards from the top 1 percent of submissions.
Read on as Jesse shares his "5 Tips for Photographing the Stars and Couples."
Jesse, you're known for creating some amazing portraits of your couples with stars. For photographers looking to accomplish something similar, what is your overall advice?
Fail gracefully! These shots are extremely difficult to pull off, so you're probably not going to nail it on your first try. But that's okay. The only way to learn is through trial and error. So get out there and fail. Then fail again. Then fail better! The key is to keep a positive attitude throughout the process … if it was easy to do, it wouldn't be worth doing.
And what are your best tips to knock out some stellar star photographs?
1. Do your research. Figure out when, and where, you're going to photograph. I recommend Dark Site Finder to help direct you away from light pollution. You'll also have the best results during a new moon because moonlight is significantly brighter than starlight. Don't forget to check the weather because a small amount of cloud coverage can completely ruin your chances of getting a good shot. And finally, if you're hoping to capture the Milky Way, it's visible late at night during the summer months in the Northern Hemisphere.

2. Choose the right gear. It probably goes without saying, but a sturdy tripod and a shutter release cord/remote are a priority for this type of photography. Also, be sure to use a camera with solid high-ISO performance, good dynamic range, and a large sensor. Trust me, wall-sized prints are going to happen if you nail these photographs! My go-to body for star photographs is the Nikon D850. I also strongly recommend shooting with a wide lens. In general, the wider the better (24mm is good, but 14mm is my sweet spot). The wider your focal length, the longer your exposure can be before the stars begin to streak across the frame.

3. Fine tune your settings. First, I dial in my largest aperture (usually f/2.8). Next, I choose my shutter speed. I know from experience that at 14mm I can open my shutter for approximately 30 seconds before the stars begin to trail. Next, I guess at an appropriate ISO. It's usually somewhere in the 2000–4000 range. This should get you pretty close, and then you can adjust as necessary.

4. Focus in live view. For the best possible results, I recommend using live view to zoom in on the brightest star in the sky (or Mars, if you can see it). Then, manually adjust your focus dial until it appears tack-sharp. Alternatively, you can focus on the couple. As long as they're not super close to your camera, the stars will still appear to be in focus when photographing with a wide lens. Another method I sometimes use is photographing two frames: one focused on the stars and one focused on the couple. This way, I have the option to layer the two images together in post, if I wasn't able to nail it in one frame.

5. Play with the light. This part can be a bit tricky, but also a lot of fun. There are three techniques I generally use to light the couple. First, if there's zero ambient light, the couple doesn't have to hold still and you can freeze them with a flash at any point during the exposure. Next, if there's some ambient light, the couple can try to hold very still for the duration of the exposure; the ambient should be enough to light them. Finally, if the couple can't hold still for the duration of the exposure, which is usually the case, you can bring them into the frame at the very end of the exposure and light them with rear-curtain flash. This will sometimes create a bit of "ghosting," but it can look cool if you do it right.
Great tips, Jesse! What do you love most about being a wedding photographer?
I love having the freedom to live the lifestyle I want to live. I used to be a newspaper photographer, which was the quintessential 9-5 job. I'd work long hours for little pay, and rarely ventured outside of our circulation radius. Ten years after starting our own wedding photography business, Moira and I are fortunate to have traveled all over the USA, and the world, seeing cool places and meeting cool people. I don't think I could ask for anything more.
Thanks for taking the time to drop some serious knowledge on us, Jesse! One last question: Where can photographers learn more about you and your photography?
On Facebook, we're at: /jlaplantephoto. On Instagram, we're at: @j.laplante.photo. We're running our first ever workshop this November, here in Colorado. It's sold out, but if you're interested in joining us for a future workshop, you can sign up here! We'll make sure you're one of the first to know when the next one goes on sale.
You can see more of Jesse's work on his website; as well, be sure to give him a like/follow on Facebook/Instagram. Want to learn more about photographing the stars? Check out one of SLR Lounge's latest workshops: "Photographing the Milky Way"; Premium Members get free access!
Check out the latest SLR Lounge Award Winners here. Don't forget to submit by the August 31 deadline to be considered for SLR Lounge's August 2018 awards competition. And, finally, remember that anyone can sign up for an SLR Lounge account for free and submit, but Premium Members are able to submit up to three photographs each month!
All photographs are copyrighted by Jesse La Plante of J. La Plante Photo and have been used with permission for SLR Lounge. Do not copy, modify, or re-post this article or the included photographs without express permission from SLR Lounge and the artist.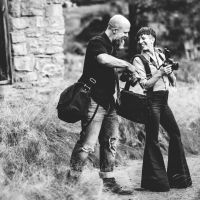 Amii & Andy Kauth
Amii & Andy are a wife and husband team of rad portrait and wedding photographers (Sunshine & Reign Photography) who absolutely love life and are generally just stoked! Yeah! When they aren't photographing or writing and teaching about photography, you'll find them off on a seriously legit adventure with their little ones, lifting weights in their garage, training jiu-jitsu, refining their archery skills, or surfing every chance they get. And on the rare chance they escape off on a "date night"? Yep! They'll find a wedding to crash (true fact). Website:
Sunshine & Reign Photography
Instagram:
@sunshineandreign