As a kid, I would wake up early on Saturdays to watch Bob Ross, for his soothing grandfatherly voice to guide me through worlds of friendly trees, telling me that it's "your world" and that I "could do whatever I want with it". My parents bought me a Bob Ross painting kit with a palette, fan and filbert brushes, a knife for mountains, and a couple of canvases. Guess what? Right away I nailed it. I had the right tools and was able to do it exactly like him. I then became a professional painter and was soon selling my art for stacks of cash and my name was household. All I needed was that kit. Crazy right?
Yeah. It really is as stupid as it sounds.
Here's the reality. Bob Ross could paint a better scene with his fingers than I could with the right tools, and, give him the right tools and he could paint better than he could with his fingers. You guys should all just take a moment and go watch some Bob Ross (see below).
Good gear will NEVER make you a better artist, but there's only so much you can do with bad gear. You can get some fun, nostalgic, well-composed, vacation shots with a disposable camera, but you'll never be able to adjust those to your nuanced style and branding as a professional, unless someone has already figured that out (very possible that is someone's thing).
Editing can be a very similar problem. I fall here a lot; I focus so much on editing techniques and styles that I forget the reality that polishing a turd only goes so far.
Making art is so multi-faceted that we disrespect the process and undercut our attempts to improve when we get distracted with the outer coating. I'm constantly challenged to pour my passion and heart out and this is what will move my work forward. I see work from people who shoot very few frames in a session, like Ryan Muirhead, or regularly leap from their comfortable position of success to try new things like Ben Sasso, or are historic figures of an age of photography long before me, like Vivian Maier (watch the documentary) and it's a good reminder.
It's not just an argument about expensive digital gear or expensive film gear. They can both be distractions. Does the gear you currently have prevent you from creating genuine art? Involve other critical friends into that conversation, and if the answer is 'yes' then get what it will take for you to make art from the center of who you are. If the answer is 'no', then get off Craigslist, stop imagining having that next thing, and go out there and shoot. Chances are your gear is outperforming your vision.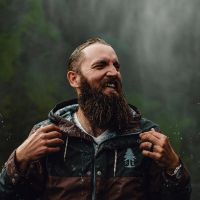 Ryan Longnecker
I grew up in the Eastern Sierras and since I was a kid I loved being outdoors and art. I went to school for music and theology and think both of those weave their way into my photography. I have a passion to change people from being cynical about people and this planet to being hopeful and seeing the beauty in it. I have a wife and two daughters and they could care less how successful I am at taking pictures, and that's great, because it's a constant anchor to what is best.