Learn More About the Lightroom 4 A-Z Guide
The following tutorial is "Introduction" from Chapter 1 – 1 from the Lightroom 4 A-Z DVD Guide. We will be releasing 1-1 tutorials per week from the LR4 A-Z DVD. The full DVD including 130 tutorials and nearly 14 hours of Lightroom 4 training is available in the SLR Lounge Store.
In this Lightroom Tutorial
Lightroom 4 is a powerful photo editing software. From casual photographers to professionals, Lightroom 4 has a place in everyones workflow. Because Lightroom 4 has so much to offer, we made a DVD of tutorials, so that everyone can learn and take advantage of the resources.
Introduction Video
What is Adobe Lightroom 4?
Adobe Photoshop Lightroom 4 is a very powerful image editor and file management system. When you learn to maximize your productivity with the program, you can cut down hours of editing and processing in your workflow. It's a great tool to have for photographers.
Unlike many image editing programs that only have one main window, Lightroom has separate working Modules. Each Module focuses on a specific part of the photographer's retouching workflow and will only have the tools that relate to that task.
The 8 Modules in Lightroom
• Library
• Develop
• Print
• Map – New in Lightroom 4!
• Book – New in Lightroom 4!
• Slideshow
• Print
• Web
The majority of your time will be spent in the Library Module and Develop Module. the Library is similar to Adobe Bridge and Develop is similar to Adobe Camera Raw.
The Library Module is where you import, organize, manage, and export your images. You can import images from your memory card or from your hard drive into what is called a Lightroom Catalog. I will talk about the Catalog in a future article, but it is a database that keeps track of the imported images and the changes that you have done to them. Finally, you can also export to various websites like Facebook and Flickr through the Library Module.
The Develop Module is where you do all of your editing and processing of your photos. There are many tools available to you in this Module, from exposure adjustment to noise control. One of the best features of Lightroom is that it is a non-destructive image editor. This means that whatever and however many changes you make to your image in the Develop Module, you can always revert back the image back to its original state.
The Print Module is where you can create contact sheets and print layouts. There are many layout options available, and you can design your own layouts.
The Slideshow Module allows you to create slideshows. You can add various transition animations and even add your own music to the slideshow.
There is also the Web Module that lets you create HTML and Flash web galleries.
New to Lightroom 4 are the Map Module and the Book Module. With the Map Module, you can geo-tag your images.
Finally, the Book Module is a new and powerful way to design and create albums. Before Lightroom 4, you would have to export the images out of Lightroom to create album mockups, then re-edit the images in Lightroom based on the album layout, and finally re-export them back to the album. The new Book Module allows you to make the layout design and edit the images within Lightroom.
Conclusion and More Info
Lightroom 4 is meant for professional use, but it is also very affordable at an upgrade price of $79 and a full retail price of $149. It is a must for a professional or semi-pro photographer. Casual photographers who shoot about 30-50 images a week can still benefit from Lightroom's organizational structure and social media export capabilities. Learning the ins and out of the program will help you become more productive so you can spend less time editing and more time shooting.
In our next article, we will be talking about the difference between destructive vs. non-destructive image editing.
Purchase the Lightroom 4 A-Z DVD Guide
The Lightroom 4 A-Z DVD Guide will turn any Lightroom novice into a complete master of Lightroom 4 in no time! The DVD which can be played on a Mac or Windows PC includes the following:
– 130 Video Tutorials and nearly 14 hours of content!
– Over 6 hours of tutorials dedicated to developing techniques
– Full Menu System for easy navigation through the tutorials
– Bonus DVD Content that includes Advanced Lightroom 4 Techniques
– Full HD 1080p Resolution for all Video Tutorials
– On-screen Shortcut Tooltips for Lightroom 4
– Exercise Files + Final Catalog so you can follow along during the tutorials
– No Advertisements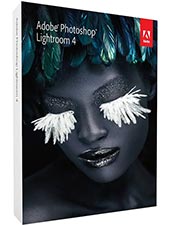 1) Purchase Adobe Photoshop Lightroom 4 through Amazon. Click any of these links to take you to the offer.
Click here to purchase Adobe Lightroom 4 from Amazon.com
2) Student and Teacher Editions of Adobe Photoshop Lightroom 4 is available through the Adobe Educational Purchasing Site.
Article by
Post Production Pye
Managing Editor