Motion controlled camera systems have been popping up all over lately on kickstarter and other crowdfunding sites. We recently came across another entry into the motion control market that we think has some promise, Introducing the Revolve Automated Motion System or RAM as they refer to it.
The RAM system is touted as an answer to the demand for a truly affordable motion control system, though at $299 some may disagree on the definition of affordable (But in comparison to other systems $299 is cheap). The neat thing about this system is that is is adaptable to any camera slider, and also has a camera dolly that it works with. It is also incredibly simple, only a dial and switch to control it.
Check out the announcement video below:
I think this has promise. The $299 price tag is still a little high for the ultra low budget filmmaker, but it is still a great deal when compared to similar systems. The only other critique I have is regarding how simple the controls are, specifically the speed dial. I like the simplicity of the dial, but from the look of it it does not have any marking to help you see how fast it is going to be going. This could be a problem if you are doing a long timelapse where the speed of the motion is important.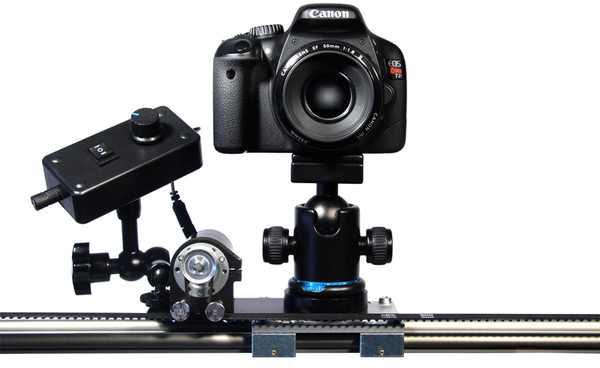 You can learn more about the RAM system on their Kickstarter page. They are currently at $22,000 of their $25,000 goal with 44 days to go, so if you are interested in the system they could still use your support.
What are your thoughts? Is the RAM system the affordable system low budget filmmakers have been clamoring for? Let us know in a comment below.