The fashion industry is known for being on the cusp of what the next biggest trend is and, as a result, is a catalyst that shapes photography as a whole. Tastes tend to change every three to five years and we are seeing a movement heading back toward an analog look. Less is more.
Alexi Lubomirski interviews Magnus Andersson of Gloss Studio, one of New York City's premiere retouching studios, and discusses the impact this has had on the industry. He has seen the transition from film to digital, the infatuation of retouching and the boundaries it pushed and back again. The fashion and retouching trends continue to influence the modeling and photography industries as a whole.
The relationship between the retoucher and photographer is very important. Anderson states that a great retoucher understands photography and recommends spending time in the dark room to obtain firsthand knowledge.
A successful retoucher recognizes what the photographer wants and knows how to produce it. Whether it be editing to perfection or knowing how to make an image look as if it was just captured on camera, it is important to know how to do both.
The resurgence of film and instant film has created a lust for that specific look and feel in the digital world. In order to meet a client's demand for this look, it is important to have working knowledge of how film works from start to finish. Film choice and the type of paper that an image is printed on compresses the color in a way that is unique and looks amazing.
The advancement of digital technology has created a look that is similar, however, it cannot be replicated. Grain, in particular, is different in the highlights, shadows and transitions; it is larger in the shadows because it is slightly underexposed and smaller in the highlights whereas with digital, grain is applied to the entire image evenly.
Retouching killed the supermodel.
Up until the onset of digital, there were only a handful of supermodels who could create perfection on a frame. Retouching makes everyone look good and now anyone can be a model. As a result models have become a commodity and the super model has been replaced with celebrities.
Digital photography is a double-edged sword. In the beginning all decisions were made by the photographer and art director in a fashion editorial. Now it is more of a democratic process and everyone has a say. Magnus jokes that even Avedon's famed fashion portrait with the elephant would be marked up by any art director it was placed in front of.
While it is necessary to know how to do both a flawless and simplistic retouch, the light-handed approach and return to analog are a breath of fresh air in today's fast paced world. Magazines and the need for perfection have become less important while the demand for social media and online images are exponentially increasing. Minimal editing allows more images to be edited and retouched in order to satisfy the demands of the clients and consumers while remaining on trend.
The following video is twenty five minutes and is packed with valuable information that you are sure to watch several times over. Be sure to check out and subscribe to Alexi's YouTube Channel and immerse yourself in a sea of informative and beautiful content.
For more insight from industry insiders check out the following: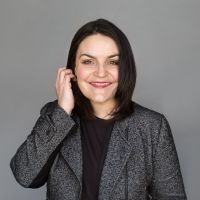 Brittany Smith
Brittany is a fashion and beauty photographer who works between NYC, Montana and LA. She photographs the way she has always wanted to feel and believes in the power of raw simplicity. When not behind a camera she can usually be found at a local coffeeshop, teaching fitness classes at the YMCA, or baking something fabulous in the kitchen. Instagram: @brittanysmithphoto