When Intel announced their Core i9 series of chip it was only matter of time before the new silicon found its way into laptops. Recently, Intel announced its first Core i9 processors for higher-end laptops.
The new 8th Generation Core i9 mobile CPUs boast a 29% overall performance increase over the previous generation i7s, and up to 59% increase while editing 4K video in Adobe Premiere Pro. Intel claims that these are "the best gaming and creation laptop processors" they have ever built.
Intel is focused on delivering desktop-like performance in a mobile package. The top-of-the-line Intel Core i9-8950HK, is a six-core, multi-threaded, unlocked monster which features single-core Turbo Boost speeds up to 4.8GHz and promises that "ultimate content creation experience." Though overkill for most, the new processor is welcomed for those who will leverage its potential.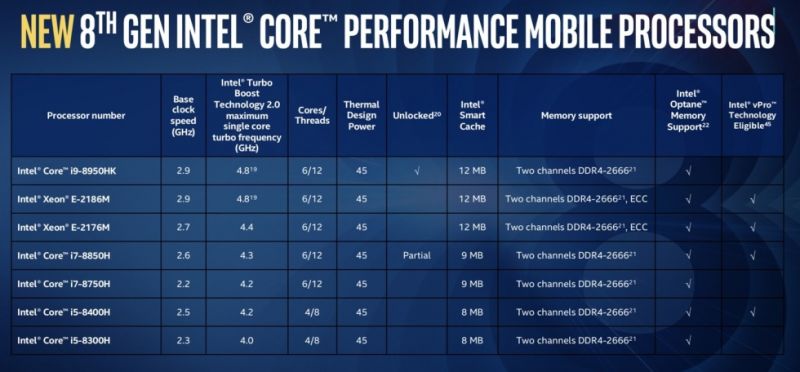 Joining the new Core i9 processors, Intel is also launching new i5 and i7 variants of the 8th generation chips. Known as Coffee Lake, the new processors are based on the company's 14nm++ architecture, rather than the 14nm+ of Kaby Lake R chips. All of the new processors will support Intel's Optane technology, which should increase overall performance as well. Dell and MSI have already released machines, the new 2018 XPS 15 and GT75 Titan respectfully, with the mobile variant of the Core i9 CPU, with other retailers soon to follow.
Justin Heyes
Justin Heyes wants to live in a world where we have near misses and absolute hits; great love and small disasters. Starting his career as a gaffer, he has done work for QVC and The Rachel Ray Show, but quickly fell in love with photography. When he's not building arcade machines, you can find him at local flea markets or attending car shows. Explore his photographic endeavors
here
. Website:
Justin Heyes
Instagram:
@jheyesphoto