Comparable to starting your journey as a Pokemon trainer given the option of squirtle, bulbasaur, or charmander, the same goes for trying to choose a camera. They are all gifted in different areas and some have weaknesses where others find strength. Every camera is different, but at the end of the day, they all "catch" the right moment. Before you guys stop realizing how tentacool I am, I'll stop these terrible poke puns.
The first step on your journey to become an Instagram photographer master is to figure out exactly what you are looking for in a camera. You'll be carrying this pretty much everywhere with you, so you want to make sure it's dependable, reliable, and of course, fitting in appearance enough to be seen with you. Here are some factors to consider when deciding which one to go with:
Price
This is probably a big factor for most. There are cameras that are affordable that can get you some pretty decent image quality; it is not a unicorn, it is not a myth (although arguable, I do believe myself a unicorn every once in a while #stayfab).
Megapixels/Sensor
For Instagram purposes, the largest pixel accommodation you need to consider is 1080px by 1080px. It switched to a larger image size around July of 2015 because they were accommodating larger screen sizes such as tablets and the ever increasing screens of our phones.
For those of you who don't really know what the purpose is behind megapixels and sensors, let me try to break it down for you guys. If you need an image size of 1080px by 1080px, essentially you'll need around a 2 megapixel camera ('mega' meaning million and 1080 multiplied by 1080 is around 1,166,400 pixels).  Now before you sharpen your pitchforks and light your torches, it's important to realize that 2 megapixels is the absolute minimum you would need for a camera, it doesn't guarantee a gorgeous image with perfect resolution and minimal noise. It also doesn't put into factor the sensor for the camera either.
The sensor, similar to film, is a device in your camera that collects light information, and renders an image from the data it receives onto your screen. So even if you own an 8 megapixel phone camera, if the sensor isn't up to par, the image might still not be up to the quality standards of an 8 megapixel DSLR which has a larger sensor inputted. The largest sensor size you'll typically buy you can purchase is about 36mm x 24mm, the same size as a 35mm film format. This is what we'll call full frame. There's a large argument to be made for full frame sensors, but the newer generation of croppsed-sensor cameras are producing phenomenal imagery. Cropped sensored cameras are also normally on the cheaper side and they perform perfectly well for your Instagram needs.
Size of Camera
Yes ladies, size does matter. In all seriousness though, if you're the type of person that doesn't like to carry around anything bulky, the weight and dimensions of the camera will be a game changer for you. I personally shoot with a Canon 5D Mark III with an L series lens attached to it. This baby can weigh up to 4-5 lbs alone. Imagine how ripped my arms are carrying this thing everywhere—but actually don't because, in real life, they look like ramen noodles.
Another thing to consider with size is being able to bring it everywhere. If you have a bulky full frame camera like mine, it does look intimidating walking into any casual setting with it. A thin one that appears to be a point and shoot with minimal functionality will pass by security and get you into less trouble (if you end up shooting at public areas where they might request you to purchase a permit to shoot professionally). Keep in mind too that the bigger the camera doesn't mean it's the better camera. If you do your research, you'll find that many brands carry powerful, portable cameras that can meet your quality standards.
Features
I would assume for most cases, the best features to consider when choosing a camera for Instagram photography would be accessibility of your images, good white balance capability, and decent video function. AS such, wifi capability already installed onto the camera is huge. I ended up buying wifi memory cards since my cameras didn't have that function, but the cards I purchased were expensive, easy to break, and had a weak speed class (how fast it performs). It would cut out a middle man if you already owned a camera that had that function. Being able to target your white balance is another huge thing to have, especially when you might not have control of the lighting in most situations. Shooting in ambient light when you have a monochromatic feed is every Instagrammer's nightmare. But let's not dream up nightmares just yet when you can manually change up your kelvins and adjust to a cooler temperature.
Lastly, having great video capability is definitely a plus. With videos now being lengthened to around a minute on Instagram and being more marketable with a specific category for it on the explore page, it is just a plus to have in case you'd like to share a video of your cat, a tutorial, a vlog, or something worthy of World Star.
Recommendations
Here are a list of cameras and their specs if you guys wanted a place to start! All pricing is based off of B&H online.
Canon Rebel T5
price: $433.95
megapixels: 18.7mp
sensor size: 22.3 x 14.9 mm CMOS
weight: 1 lb
features: live preview screen

price: $549
megapixels: 20mp
sensor size: 1″ CMOS
weight: 0.7 lbs
features: built in wifi, flip screen, touchscreen, white balance adjustment
Nikon COOLPIX S7000
price: $226.95
megapixels: 16mp
sensor size: 1/2.3″ CMOS
weight: 0.4 lbs
features: built in wifi, swivel screen
Nikon D3300
price: $697.95
megapixels: 24mp
sensor size: 23.2 x 15.4 mm CMOS
weight: 1 lb
features: built in wifi (with optional transmitter)
Pentax K-50
price: $407.49
megapixels: 16mp
sensor size: 23.7 x 15.7 mm CMOS
weight: 1.4 lbs
features: white balance adjustment
Olympus Stylus TOUGH TG-4 
price: $349
megapixels: 16mp
sensor size: 1/2.3″ CMOS
weight: 0.5 lbs
features: waterproof, shockproof, freezeproof, dustproof, crushproof, wifi
price: $448
megapixels: 20mp
sensor size: 23.2 x 15.4 mm CMOS
weight: 0.6 lbs
features: white balance adjustment, wifi, tilt screen
I listed a couple popular cameras that would be promising starter cameras, but in no way or form am I dismissing the plethora of other available options out there! Make sure you know exactly what you are looking for in a camera and do your research in order to make the right purchase!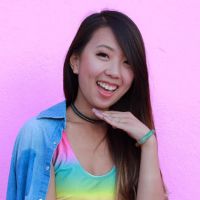 Jennifer Wu
Jennifer is a photographer and graphic designer out in Los Angeles. When she's not shooting fashion bloggers or creating social media content for brands, she's usually bombarding her snapchat with too many photos of her adorable cat or coming up with terrible puns that her friends don't find a-meow-sing