Beep Beep! What's that sound? Well if you thought it was your hotline bling, sorry you'll be sorely disappointed. It is, however, Jenn, here this week with another article to answer your Instagram questions! This week's topic is contained in that cute little square on your phone. I'll be listing out a couple fairly popular apps that might be beneficial to group with Instagram.
VSCO

Now this is one of the more well known Instagram photo editor apps that has been around for a fairly long time, and is well established amongst the Instagram savvy. It utilizes a similar format to lightroom where the user is able to place presets onto their own photos for free or for a decent price.
The biggest shortcut that it provides, in my opinion, is fiddling around with color toning. It creates different moods for your images at a click of a button, allowing quick and easy edits for your images. They even have presets you can install on lightroom if you wanted to keep the mood consistent with your professional images. My personal favorite VSCO preset has to be the collaboration they did with Hypebeast (HB1, HB2) because it takes my ratchet photos of last night into works of art—who am I kidding, they are still pretty ratch.
Another huge perk that used to come with this app was that you could plan out your feed with their gallery. It would place images side by side in the same 3-in-a-row square format as Instagram so you could visualize how it would look before you committed to uploading the real deal. However, with the newest update, they have removed that gallery feature much to the dismay of feed activists. Fortunately, there are ways to revert back to the old VSCO app. The only drawback is you might lose any images you previously uploaded to it.
PRIIME

Priime has been an up and coming app that I was introduced to about a year ago. The biggest selling point for me was that it directly connects to your photo library vs. VSCO which requires you to separately download your images into your VSCO gallery. Priime gives you the option to save it as a new photo or overwrite the previous one, so you don't have to worry about having 5 of the same image of your adorable cat in your library if you need to reedit anything. However, you are given more complimentary/nicer presets in VSCO. I would use Priime if I needed to do a quick modification and VSCO for a more dramatic one
AFTERLIGHT

Another one to consider in this Instagram photo editor app market is Afterlight. It's $0.99 to purchase, but according to users, it's completely worth the $1 Mcdonald's cheeseburger you're sacrificing due to all the editing features, frames, and filters you receive. Just for this review, I did not make my daily midnight run to Mcdonald's because this app was worth trying out. I did enjoy how more in-depth the editing tools are because it had more functions that you wouldn't find in the previous 2.
The only function missing that I was a little disappointed about was the tint option. Both Priime and VSCO have it so you can remove pink or green undertones from your photo and VSCO even targets skintones. It's not the most accurate (as if you were to do it in Lightroom), but it does give you another resource to utilize. If you aren't super nitpicky about your edits and don't really want to spend a buck on mid-tones, light flare effects, and multiple filters, however, the other 2 apps mentioned above definitely get the job done.
BOOMERANG
This app actually works in tandem with Instagram to create little gifs that loop forward and backwards. The great thing about this app vs just uploading a video is that it appears as an image on your feed vs. having a huge video camera icon hovering over it. Now only if all videos didn't have the icon (insert inquisitive emoticon with mini hand on chin)
SNAPCHAT

You're probably wondering why I included Snapchat in this list of Instagram apps. Surprisingly enough, it's another way to market yourself as an instagrammer and with the new update, you can now upload photos from your camera roll to snapchat for all to see. Cross promotion isn't new and Snapchat is becoming a bigger and bigger asset to the social media community. Brands are now including snapchat live coverage as part of their branding strategy and Instagram bloggers are getting more requests to promote through this app too. The next update I'd recommend Snapchat to do is have clickable tags so a snap might redirect a viewer to the product or to the Instagram page.
LATER

If you're really into organization and keeping to a specific time schedule when it comes to posting (beneficial for brands marketing their products), Later is a great platform to utilize on your phone or your desktop. You're given around 30 posts a month that you may schedule for free and after that you pay a small fee to increase the number of posts you can plan out. The app doesn't directly post for you, but it notifies you when it is time and you can directly copy and paste your post into Instagram.
HOOTSUITE

Hootsuite is similar to Later but it tackles multiple social media platforms instead of just Instagram. You are able to dissect your accounts better such as checking your history of likes on Instagram or checking mentions and messages on Twitter. It also has an option to search trending hashtags from overall popularity and your location. However, the biggest downsides are that the interface isn't as straightforward or as clean as Later and it doesn't allow you to organize your feed for future post
PLANOLY

An up and coming app to schedule and plan your feed, Planoly tries to increase efficiency and usability by allowing you to not only plan out your feed, but also to be able to control where you place the images with a simple click and drag. Later allows you to plan your feed out, but if you wanted to move images around to see what works best, you would have to delete and reupload the images. Planoly lets you upload the images and rearrange by dragging the images around.
This, in my opinion is a huge time saver for me and means I can spend more time doing the things I love (nap dates with my cat, long walks on the beach with my cat, and realizing that I spend more time with my cat than I do dating). It also provides you statistics of your engagement, which in the past had been very useful, but is almost irrelevant now that Instagram is transitioning into providing them through the app itself.
The downsides of this app is that it does glitch quite often when you upload images and it only allows you to upload 9 images at a time. Later, on the other hand, allows you to upload as many as you want. Planoly also gives you a free trial to become dependent on it so that when the trial is over, you are more inclined to purchase it. Sneaky sneaky, but hey, I'm still paying for Spotify because I got sucked into their free trial. For 1 account, Planoly charges $8.99/month and for 2, it charges $18.99/month. If the app weren't so glitchy, it would be a pretty nifty investment for those serious about feed consistency. Once more updates are created for it that minimize the uploading glitches, perhaps it would be worth the 40 pc chicken McNuggets.
Next week I'll be discussing potential cameras that can be used for Instagram, so stay tuned! My apologies if this article made you crave McDonalds, because it sure did for me.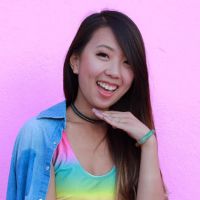 Jennifer Wu
Jennifer is a photographer and graphic designer out in Los Angeles. When she's not shooting fashion bloggers or creating social media content for brands, she's usually bombarding her snapchat with too many photos of her adorable cat or coming up with terrible puns that her friends don't find a-meow-sing