Instagram is a relentless leviathan roaming the seas of social media seeking to devour every competitor and adopting every profitable feature as its own. The company's deep pockets are matched only by its ambition to outdo anyone who dares to go toe-to-toe with this heavyweight.
The latest target of the company is a familiar one, Snapchat. And after adopting the stories feature last year, it has now decided to incorporate the filters feature into its platform. It's not surprising – you could guess something like this was coming and its seems like Instagram is living by the mantra, "Anything you can do, I can do better."
Per the Instagram Blog:
Today, we're introducing face filters in the camera, an easy way to turn an ordinary selfie into something fun and entertaining. Whether you're sitting on the couch at home or you're out and about, you can use face filters to express yourself and have playful conversations with friends.
But Wait, There's More!
Instagram is also introducing new creative camera tools: Rewind, Hashtag Stickers, and an Eraser Brush.
Rewind
The Rewind button will be found next to the "Boomerang and "Hands-Free" options and, as the name implies, allows you to play your videos in reverse.
Hashtag Stickers
The Hashtag Sticker allows you to customize a sticker that you can add to your Instagram story and make them searchable for related content via the hashtag page.

Eraser Brush
The Eraser Brush will be found with the existing drawing tools and will allow you erase things you've drawn, remove color, and selectively reveal your images.
This release comes after Instagram revealed that their "Stories" consumption was already 20% greater than that of Snap Chat. Slowly but surely,  there are fewer reasons to use Snap Chat if you aren't already established on that platform . With this latest move the gap between the two social media titans will only widen and with each successive update, Instagram is hoping to close in on the knockout blow.
You can find more details about how to implement these new features at the Instagram Help Center and you can find the full announcement on the IG blog.
More Instagram Articles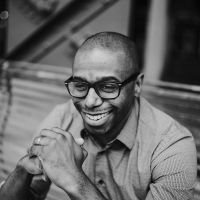 Wendell Weithers
Wendell is based in Atlanta where he shoots events, portraits, and food photography. He also supports his wife Andrea as she runs their cake design business, Sweet Details. Instagram:
Wendellwphoto