Doing it was autotelic, and yet until now, Instagram has never done it. If you wanted, you post an image on Instagram in its infancy, you were restricted to its 1×1 square format. It was the one common denominator between all users, in an almost communist fashion. Many users if not most, sort of loathed the square conformity required for Instagram, but proving again that functionality comes second to popularity, we continued to use it anyway, becoming more and more invested.
Then there came about apps like Squaready that allowed you to take an image of any aspect ratio, and it would adjust it within the borders of a 1×1 square so when you letterboxed it to Instagram it would 'appear' as you might like it. It wasn't perfect given unsightly borders that were often branded with a hideous logo, but it did the job and even for video. But apparently 1 in 5 of all images and video on Instagram had these unsightly borders, taking away from the native feel of the app, which, according to Ashley Yuki, was a big reason for this change.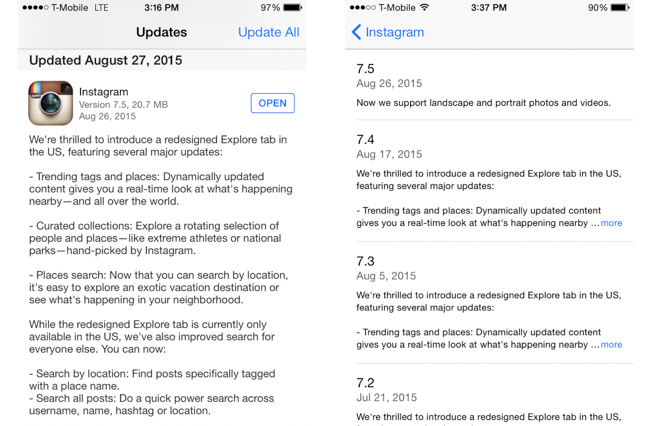 Now there's no need for a third party app because with Instagram 7.5, users, which is pretty much all of us, can upload photos and video in the orientation you like. When you're opening to upload an image, Instagram will automatically adjust, and center square the image, but with just the tap of a format button, you'll be able to upload your landscape or portrait oriented shots in their natural and full states – sans ugly framing.
It should be noted that whilst your image will appear full size and oriented as you like to other users and in the feed, but within your own user profile page, it will still show up as center-weighted square cropped. No doubt this is to try to retain some of the visual harmony that comes from having square conformity.
Thoughts
First off, you may not have the update yet. Actually, you may have the 7.5 update, but you may not have the functionality as that's the case with numerous reports as of right now, including me. Also, there is evidence from those I know who have the functionality to suggest that having this new feature work only applies to image shot with your Instagram app, and not with imported images – this would be a deal breaker for many photographers. Even if it is the case I don't think it'll last, and the Y behind that Q neatly brings me to my next point.
It's probably the biggest change Instagram has ever made and all due to user requests. It is certainly being touted as it when that's exactly how TIME magazine has described the change. I don't think so. In fact, I think it's quite significantly more Machiavellian than that.
You see, Instagram not long ago rather quietly updated and heightened the resolution from 640×640 to 1080×1080 for posts, no doubt to allow for better images and mostly video, and now this major change in format. All of this ties tidily into Instagram's plans to be the next massive advertising platform. Better quality images, more seamless integration and better formatting of video? Perfect for advertising that new movie trailer or ad campaign. This is, I believe, the real reason for the update – it's all dollars and sense.
You can see Instagram's official press release here, and get the app from the iOS App Store here and Android Google Play Store here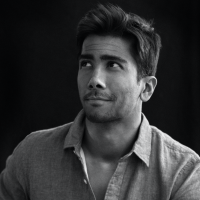 Kishore Sawh
A photographer and writer based in Miami, he can often be found at dog parks, and airports in London and Toronto. He is also a tremendous fan of flossing and the happiest guy around when the company's good.