What a year it has been for Instagram; After a redesign of their logo back in May 2016, the popular photo/video app has completely revamped its interface to house multiple creative & social functions undermining all other social media apps in existence.
Their transition from being the primary photo-editing & sharing app to becoming a contender in the video department first started with 60-second video capability, ensuring their place in the video market for creatives to share their clips. Then came Boomerang, their sister app that creates 6-snapshot GIFs, which added a new video component to the app. While IG deploying these changes, Snapchat still had the user-experience market cornered, a key component missing from Instagram's platform. Soon enough Instagram 'snapped' back with IG Stories, thus ending the debate of which social media app rules them all.
Today, Instagram takes a page from Facebook's interactive tools and implements Live video, a feature that allows users to live stream with a simple click of a button, mirroring the interface of Periscope, a social app that never quite made it big.
While IG stories remain on your profile for a full 24 hours, Live Video is only available while streaming and once the user goes offline they won't be available for replay, unlike Facebook Live. Followers will receive a notification that you are now broadcasting live and tune-in for the stream where they can comment or ask questions while you are recording. This feature is meant to build a stronger community for IG users and also keep more eyes on the app since you can only watch the video as it's live.
The Explore page has also been updated to showcase the 'Top Live' videos happening throughout the app to help users find and follow new and interesting handles.
They've also deployed a new Photo Sharing function that allows users to send instant images via direct messaging that disappear after viewing, allowing users to see who has viewed or screen-shotted their images. This gives the direct messaging platform of the app more of a Snapchat-esque vibe, so you might as well delete that yellow app icon all together. Maybe? Here is how it works:
To open your inbox, tap the new paper airplane icon at the top right corner of your feed or swipe left. You'll see disappearing photos and videos in a bar at the top. Tap the ones with blue rings to see what your friends sent you. In a group, you can see everyone's responses — and who else has seen them — in a slideshow format.
Similar to how photographers have been using IG stories, live broadcasting can be an effective way to market your services by showcasing BTS footage, live-streams from weddings, how-to videos, and more. Facebook Live has been a vital tool for businesses to give consumers and fans a way to engage and enhance their experience with their brand, and now IG will also hold that potential. Live video is set to roll out to users globally over the course of the next couple of weeks, while private photo/video sharing is included in the latest update.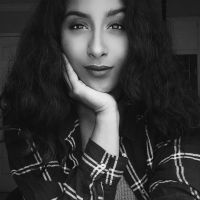 Shivani Reddy
Shivani wants to live in a world where laughter is the cure to pretty much everything. Since she can't claim "Serial Bingewatcher" as an occupation, she'll settle for wedding/portrait photographer at Lin and Jirsa & marketing coordinator here at SLR Lounge. For those rare moments when you won't find a camera in her hand, she will be dancing, eating a donut, or most likely watching Seinfeld. Follow her on Instagram:
@shivalry_inc