Smartphone users everywhere understand a few simple rules: tap to open, drag to scroll, and pinch to zoom.  These basic concepts hold true across nearly all apps, and we're all well-accustomed to zooming in on any photo our phones are able to display, with the one glaring exception being Instagram… until today.
Instagram has officially introduced pinch to zoom for iOS as of today, and promises support for the feature in the android app "in the coming weeks."  You can now pinch to zoom on any photo or video, whether it be on your feed, in someone's profile, or in the explore tab.  When pinching, or, more accurately, "un-pinching," the image will zoom into the area between your fingers, and expand to fill your entire phone screen.  The image will then shrink to its regular size as soon as you release your fingers- a simple, streamlined implementation of the long-awaited feature.
This news could introduce a number of possibilities for serious photographers using the platform as a means of promotion.  Where Instagram has historically been optimized to showcase and emphasize simple, artful compositions, particularly back in the days of the square-only aspect ratio, image-makers can now easily include more complex subject matter, inviting followers to explore small details more closely.
However, don't get too excited just yet.  While I've only been playing with the feature for a short amount of time, it seems clear that Instagram isn't suddenly saving all of the photos you post at their full resolution. I posted a 42 megapixel image to my instagram directly from Lightroom, to see how much detail is preserved, and found that details begin to become muddy at about 2x-3x zoom, although, as this is day 1 of this new feature, results may vary.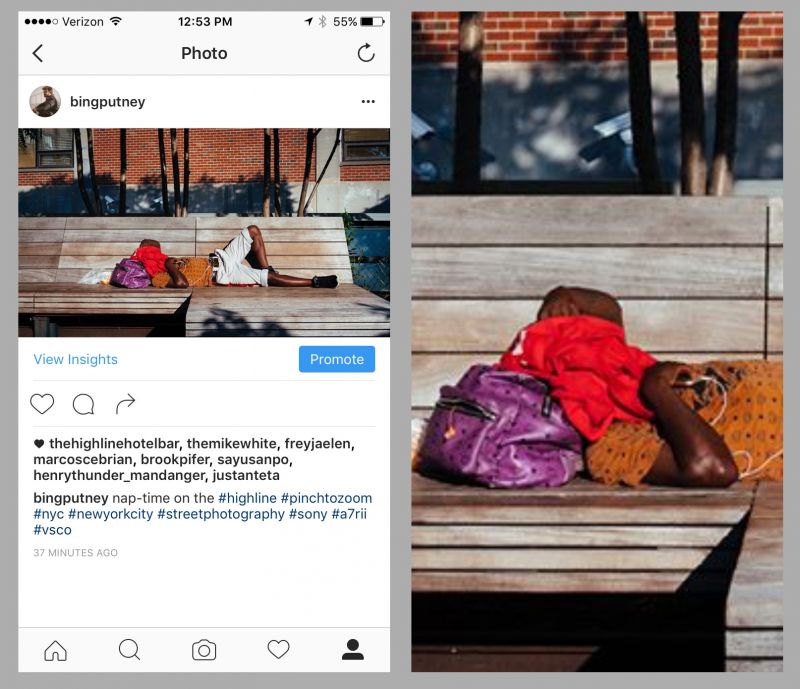 Simply update to the latest version of the app (iOS only, for now) to activate the new feature.
Bing Putney
Bing is a professional portrait and on-set still photographer who lives in Los Angeles, and frequently travels the world to explore new and interesting cultures and pastries. Website:
bingputneyphotography.com
Instagram:
@bingputney