Welcome to Time Out with Tanya, where I've put my fast paced graphic design career on hold in favor of adventures in motherhood. I'm capturing every moment on camera, and you can come along if you'd like. Sign up for my weekly email here, so you'll never miss a Time Out.
Knowledge is power. This statement couldn't be more true as far as photography is concerned. Knowing what makes a great image and how to create one is more than half the battle. You don't need expensive gear or hours of time to set up a shot in order to create an incredible image. Our Photography 101 Workshop DVD covers so many great tips for taking your natural light portraits to the next level in little time with whatever gear you already have. Here are my favorite 5 ways to improve your natural light portraits in one second or less.
Use the Hand Trick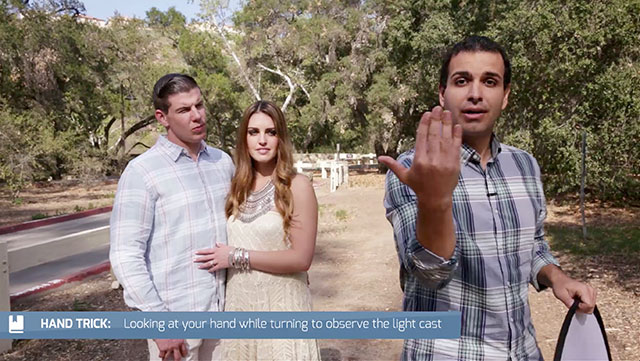 The hand trick is a technique demonstrated by Pye in Photography 101 and the Natural Light Couples Workshop DVD. Basically, in any situation, if you want to check out the quality and direction of light and have a visual of what kind of shadows are going to be falling on your subjects, you can hold your hand up to the light and analyze it before you place your subjects in the scene. The hand trick helps you decide where to place your subjects and how to modify the light if needed. It only takes a second, and it makes you look like you actually know what you're talking about, LOL!
2. Use a Reflector
How many of you have one of those fancy 5-in-one pop-up reflectors and never use it? After a tripod, a reflector is one of the first gear items I purchased and promptly forgot to use. After reviewing Photography 101 and seeing how drastically Pye was able to modify the quality of light in his images by using a reflector, I've been taking mine with me on every shoot.
Using a reflector has helped cut down on the time I have to spend dodging, burning, brightening and retouching in post-production, and it literally only takes a second to hold up that reflector and add that pop of light. It has also allowed me the option of adding warm or cool tones to an image in-camera. Using a reflector can help add catch lights and more "sparkle" to the eyes as well as eliminate or brighten shadows underneath the eyes.
The only downfall to using a reflector is that you generally need the help of an assistant or a reflector stand, but I've found it's worth it to have one or the other around. An assistant is easier to deal with (in most cases, haha!).
3. Straighten Your Horizon Line
A straight horizon line can add balance and harmony to your images, especially if it's a prominent line in the photograph. My head may not be screwed on straight or something because the horizon line in my images always tends to be a little off kilter. Are you struggling with the same thing? There are a few things you can do to fix it.
Most digital cameras these days come with a grid function built into the LCD or viewfinder. You just have to take a second to turn it on in the menu. This can help you align your horizon or even vertical lines in your shots. Or, if you find these lines to be distracting while you shoot, you can align the horizon in Lightroom or Photoshop very easily. The straighten horizon line tool (not sure if that's the official name?) is one of my favorites. Use it!
4. Take a Step in One Direction
Taking a step to the left, right, backward or forward can make all the difference in the composition of your image. Avoiding distracting elements in the background like tree trunks, satellite dishes, tourists, garbage cans (all common things I run into while photographing in parks or peoples' yards) can be all you need to take your image from so-so to totally awesome. Take a second and try taking a step in one direction and see how it affects your composition.
5. Change Your Perspective
Similar to the last item, if you're lacking inspiration for the shot or have too many distracting elements in the background, try changing your perspective beyond one step. During a critique in a college photography class years ago, my professor mentioned he had seen this park photographed a million times by his students, but this photo stood out to him because he had never seen it photographed this way. I literally laid down on the ground underneath the play structure to get this shot. That critique has stuck with me, and I'm always looking for a different perspective. How do I see the world differently than others?
Going out of your comfort zone, and possibly looking like a fool, can get you a better shot. Lay on the ground, hover above, shoot through something interesting in the foreground, find a reflection. These are all things you can do that don't take any extra time or set up, you just have to have an eye for them and give them a try.
6. Know Your Numbers

Finally, the last and probably most important thing you can do to improve your photography in one second or less is to know how to use your camera. If you want motion blur, what manual settings should you dial in? If you want to freeze motion, how do you do it? If you want to blur the background, what factors will determine how to make that happen? Do you know off the top of your head? Can you decide in one second?
If not, you need more knowledge or practice or maybe a little of both. Learn to shoot in manual mode, modify natural light and compose a pleasing image in our Photography 101 Workshop DVD.
Other articles you might like:
5 SURPRISING LESSONS I LEARNED FROM PHOTOGRAPHY 101
HOW TO TAKE YOUR RAW FILES FROM DRAB TO FAB IN 5 CLICKS OR LESS
FIVE MORE RULES TO ROCK YOUR PHOTOGRAPHY COMPOSITION
THE ART OF 'THE SECOND SHOT' | A CHALLENGE FOR WEDDING PHOTOGRAPHERS
CREDITS: Photographs by Tanya Smith are copyrighted and have been used with permission for SLR Lounge. Do not copy, modify or re-post this article or images without express permission from SLR Lounge and the artist.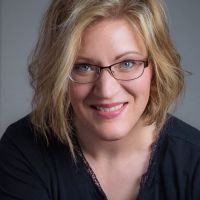 Tanya Goodall Smith
Tanya is the owner of WorkStory Branding Photography in Spokane, WA. Businesses hire her to create story-telling content that sells their high end products and services. She also teachings photographers her unique business model for making serious money as a corporate and personal branding photographer. Find her at
workstoryphotography.com
and
workstoryeducation.com