Introduction
I've received a lot of emails and social media messages lately regarding branding and how to market yourself in other areas of photography when you have built up a business focused in one genre. Being that I'm a full-time wedding photographer, I spent years building up my wedding business, but I also kept building my personal brand as well. Since I obviously know all the answers to life, I wanted to share my thoughts on this.
Finding your niche in the photography industry takes time, but once we find what it is, many of us pigeonhole ourselves into that niche. Using wedding photography as an example – once we find that we want to take our business in that direction, we begin building on that. We focus on building a brand around the wedding photography business and begin to push it and watch it grow. What happens for a lot of us is that we then have no place to really push other projects or personal work that we can use to bring in other work and income.
I want to explain to you how I have built up my wedding photography business, as well as kept my personal brand intact, and explain why I think you should do it this way, too.
Wearing Many Hats
Take Chase Jarvis as an example of someone who has built an extremely marketable personal brand; he wears many hats. Rather than focusing on only one area of photography, he has built a brand around the name Chase Jarvis. He is sponsored by numerous companies and doesn't limit himself to any specific area of the industry. When I set out to build up my wedding photography business, I used him as an example for wanting to continue building on my personal brand and not limiting myself to just weddings.
Creating a marketable brand in the wedding industry is extremely difficult to do, but focusing on that specific brand is important. You want to build a brand that is focused on bringing in wedding clients, not confusing them with photography related info. Wedding clients care about one thing, your wedding portfolio, not gear reviews or personal projects. On the flip side, unless you're interested in wedding photography, you won't be interested in that same brand or website.
My Personal Brand
My first wedding photography business was called Cass Imaging, which focused on not only weddings, but family and kid portraiture. While I built on that business and creating the Cass Imaging brand, I had to make a decision on what to do with my personal work and everything else outside of Cass Imaging. I made the decision to create a completely separate website that I could start building on my personal brand, one that I could use for everything outside of Cass Imaging. Keeping up with both was tough at times, but I saw the importance of it, and made it a priority.
Along with personal photography projects, I used it to share my SLR Lounge articles, gear reviews, and any personal articles I wanted to write. As Cass Imaging grew bigger, so did the traffic to my personal website. I began to notice all the different ways I could use my personal site to market myself in other areas outside of the Cass Imaging wedding and portrait business. I used it to gain sponsorships with companies that wanted to see the benefit to having you on board, and I was able to give them traffic stats. Most of these sponsorships wouldn't have been interested in sponsoring me if I only had a website that was catered towards wedding or portrait clients.
[REWIND: 5 Reasons To Partner With Your Direct Competition]
Earlier this year, I made the decision to leave Cass Imaging and make the move to merge with another wedding photographer to create a completely new company focusing on only weddings. This move was one that would allow for more growth and expanding our footprint outside of our local area. We created Twisted Oaks Studio, and had a brand new website and brand designed for us. This new brand focused solely on wedding clients, advertising ourselves to potential clients, as well as creating a website for those clients who have already booked with us.
I felt extremely comfortable doing this; it made an even better experience for our wedding clients that only care about wedding photography while still keeping my personal brand intact. I am also able to use my personal site as a way to promote the wedding work, as well as every other photographer hat that I am now able to wear. I picked up a couple more sponsorships since creating Twisted Oaks Studio by using my personal site, as well as pick up other paid work that helps in the off season.
Conclusion
Finding your niche in this industry is very important, and creating a brand around that is even more important. There are many photographers out there that have successfully mixed that brand with personal work and done well with it, but it's not the approach I recommend.
If wedding photography is what you want to build on and create a brand for, do it and make that brand focused solely on wedding photography. I suggest at the same time, creating a personal brand and website that you can use for everything else photography related outside of the wedding industry. Sure, there are those wedding clients that are also photographers and love seeing your personal work, but I use my personal site to push traffic to my wedding site as well.
The first thing you see when you go to www.jaycassario.com is a link to my wedding work. I have always wanted to do it this way, and while I wasn't sure if it was the best way to go, the past 3 or 4 months have really showed me that it is. I have had wedding clients tell me that they found me through my personal work as well as wedding clients tell me they are thankful for not confusing them with too much photography related info on my Twisted Oaks website.
Last month while speaking with G-Technology about sponsoring me, I was told that they weren't interested in bringing on any more wedding photographers, and that my personal work was what they were interested in. The G-Tech conversation really made me realize that building a personal brand around myself, outside of my wedding work was the right way to go, and it's what I recommend you do as well.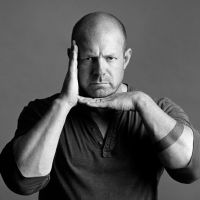 Jay Cassario
Jay Cassario is a fulltime photographer from South Jersey, owner of the multi-photographer wedding and portrait studio
Twisted Oaks, and Brand Ambassador for Leica Camera USA. WEBSITE:
Jay Cassario Personal Facebook:
Jay Cassario Business Facebook:
Twisted Oaks Studio Google Plus:
Jay's Google + Twitter:
@JayCassario