Open any major fashion magazine today and you will be hard pressed to not see a campaign that was photographed by Patrick Demarchelier. His list of advertising clients is extensive and includes the luxury brands of Louis Vuitton, Dior, Harry Winston as well as many others.
With a career spanning the course of several decades, Demarchelier is constantly in demand for magazines such as Vogue, Harper's Bazaar and Vanity Fair. His work is very timeless and elegant.
Patrick Demarchelier has no short list when it comes to celebrity portraits. From Jennifer Lawrence to Margot Robbie to Nicole Kidman; it seems as if he has photographed them all. He even frequently captured the natural beauty of Princess Diana.
"When you are a photographer, you work all the time, because your eye is the first camera."
Our eyes are in fact our most accessible tool we have at our disposal. We can use them to study anything and everything to learn. One of the best ways to learn lighting and posing techniques is by attempting to replicate a classic portrait, such as Patrick Demarchelier's infamous capture of Kate Moss that was shot in 1993 for Harper's Bazaar.
The image itself looks incredibly simple in essence, however, looks can be deceiving. It often takes more work to make an image come across as effortless. Breed gives us an inside look at the process and critical thinking necessary when it comes to deconstructing an image.
Photographer Jason Setiawan did a great job producing a quality image that is very reminiscent of the way the final product should look. The image was captured using a medium sized octabox placed overhead with only one of the two diffusers in addition to a parabolic umbrella used as fill.
Gear List:
Team
Photographer – Jason Setiawan
Model – Jenny @ RED Model Management
Hair & Makeup – Abraham Sprinkle
Retouch – David Neilands
It is fascinating to watch how retoucher David Neilands picks apart this image in the post process to replicate an image shot on film in the digital era. He touches on adding texture to the background, layer masks and slight curve adjustments to achieve the final look.
Also worth noting, is SLR Lounge Premium members get access to Breed/Melissa Rodwell's Fashion Photography Exposed, which is a comprehensive and insider guide to navigating the world of fashion photography. It's gold.  Check out Premium here, and if fashion lighting is what you want, look no further than Breed's Advanced Fashion Photography Lighting  – of which we've reviewed here.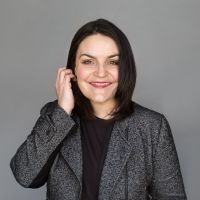 Brittany Smith
Brittany is a fashion and beauty photographer who works between NYC, Montana and LA. She photographs the way she has always wanted to feel and believes in the power of raw simplicity. When not behind a camera she can usually be found at a local coffeeshop, teaching fitness classes at the YMCA, or baking something fabulous in the kitchen. Instagram: @brittanysmithphoto