In the photographic realm we are surrounded by brands that are anchors, and titans in their own right. They are the brands that have either been with us along the whole journey, or ones whose products we aspire to using. But in a sea of these faceless companies, Paul C Buff stood out as a company not only with a face, but with a soul.
His company, and the man himself, is built on a foundation of customer service, and this reputation was carried through the affordability, reliability, performance, and persona of his products. White Lighting brought direct customer-to-manufacturer product contact in a way never seen before, and then the Alien Bee strobes offered power and performance in an affordable package also never seen before. Both of these lines have gone on to become staples for many amateur and professional photographers alike, and along with more recent innovations, the Einstein strobes and Vagabond units, Paul C. Buff has become a quintessential brand that brings performance to the masses.
All of these products, and the company that has stood behind them, are in the spirit of the man behind it all, and it is with sadness that the company has announced that founder Paul C. Buff passed away this week age 78, survived by his wife Deborah and their family.
The company site has released a statement on his passing, and you can learn more about the man and the company he built here.
With great sadness we announce that our founder, Paul C. Buff, passed away this week at the age of 78. He has been living with his beloved wife of 16 years, Deborah, and their extended family in their secondary home in Mobile, Alabama for over a year and passed away in this home with his family around him. Those of us who have had the pleasure of knowing and working with Paul have lost an invaluable mentor, an inspiring leader, and a treasured friend. The world has lost one of its most creative and adventurous pioneers.

In the coming weeks, we will celebrate Paul's unique and extraordinary life, giving customers, employees, and friends the opportunity to share their tributes and memories. But first, we must take time to pause and grieve the loss of a man who had such a great impact on us all. If you wish to offer condolences in the mean time, we invite you to email them to CelebratingPaul@paulcbuff.com.

For years, it has been our mission to advance Paul C. Buff, Inc. in the spirit of innovation and originality upon which it was founded. With gratitude for everything that Paul has taught us, we honor his memory by continuing to serve our customers with the outstanding products, support, and Golden Rule standards that he initiated.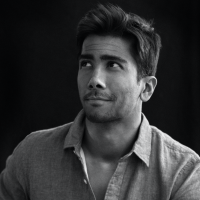 Kishore Sawh
A photographer and writer based in Miami, he can often be found at dog parks, and airports in London and Toronto. He is also a tremendous fan of flossing and the happiest guy around when the company's good.