This is a shooting tutorial that was submitted by Chris Holtmeier of Foton-Foto.com on the SLR Lounge forums. If you are interested in having your work featured on the SLR Lounge site, post your work on the SLR Lounge Constructive Critique section and we will take a look at it.
Background and Vision
My name is Chris Holtmeier, and I made this photograph to document my daughter's first real injury. She had fallen off her scooter while I was pushing her, and like any new father in a similar situation, I was devastated. After she was cleaned up and happy again, I sat her down and shot a series of frames.
How You Shot it
Camera: Canon 5D MkII
Lens: Canon EF 135mm f/2L USM Lens
Shutter: 1/125th sec
Aperture: f/8.0
ISO: 100
Focal Length: 135 mm
A 3-strobe setup with a pop-up reflector was used to light this. A 36″ octobox was boomed overhead directly in front of the subject at a 45-degree angle. A white reflector was placed below, facing up at a 45-degree angle. This created a quasi-clamshell effect. For the sidelights, two medium softboxes were placed just slightly back from parallel to the subject, and angled towards the camera. Be sure to use a hood, and watch for flare and haze if you attempt this. I began with all lights metering at f/8, then reduced the side light power until even light fell on the subject.
How You Processed It
Adobe Lightroom 4 was used for raw conversion, with Photoshop for image cleanup and final sharpening. An X-Rite ColorChecker Passport provided the camera profile and white balance. The final image has been slightly cropped, but I left the errant thumb in to remind me of the iPhone I bribed her with to keep her still.
Thank you for viewing my image and reading the story behind it. My name is Chris Holtmeier, and if you'd like to view more of my work, my website is foton-foto.com. I can also be reached on Facebook at www.facebook.com/FotonFoto.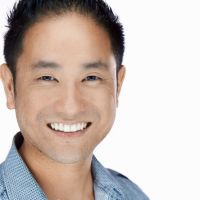 fotosiamo
Joe is a fashion and commercial photographer based in Los Angeles, CA. He blends creativity and edge with a strong style of lighting and emotion in his photographs.