This is a shooting tutorial that was submitted by Chris Holtmeier in the SLR Lounge Forum.
SLR Lounge Thoughts
Shooting a clean, simple headshot may seem like a no-brainer, but what is really important here is knowing what kind of lighting works best with your subject and the intended use of the photo. In this photo, Chris utilized a combination of a beauty dish off-axis to add dimensionality with the shadows, and a reflector fill to keep the shadows very light. This softer light is a great look for a person of her age who wants to look vibrant and engaging, and for what she is going to use the photos for, which is for promo materials.
It is important to not only know your lighting, but also to know which specific lighting technique works best for which scenario. That is why we chose Chris's lighting tutorial for this "How You Shot It" article.
Background and Vision
This is a headshot created for Kymi, a wonderful local artist. She wanted a clean look to use for the promo materials associated with her gallery works and speaking engagements.
How You Shot It
Camera: Canon 5D mkII
Lens: Canon EF 135mm f/2L USM Lens
Shutter: 1/200th sec
Aperture: F5.6
ISO: 100
Lighting set-up was very simple. A 27″ beauty dish is set above and just off camera left, and a white reflector is placed camera right for fill. The background is just a white wall, blown pure white by a strobe with a 7″ reflector. Background strobe was directly behind her.
An X-rite ColorChecker was used for white balance and color profile, and the Lightroom 4 Preset System was used for post-production.
My name is Chris Holtmeier, and my site is foton-foto.com. Thanks, and let me know if you need any more info.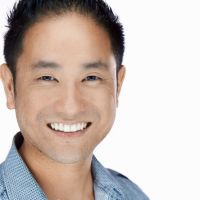 fotosiamo
Joe is a fashion and commercial photographer based in Los Angeles, CA. He blends creativity and edge with a strong style of lighting and emotion in his photographs.