Background and Vision
I recently did a conceptual shoot for Annex Magazine at a running trail that happens to have some great forest backdrop. I shot there before for one of my other concept shoots, Wolf Day Afternoon. My assistants and I scouted several locations and found this amazing cave structure made from tree trunks, branches, and canopy. Once I saw this, I just know that I had to shoot there. I'm not sure how it was created or who created it, but we definitely took advantage of it.
For this scene, I wanted to create an intimate, cinematic scene that looks like it could be straight from LOST or a movie. I also wanted to have that sunlight breaking through even though this was shot at dusk, so I used three Einstein strobe lights to light this scene. The look I want is cinematic, which is why the I chose this color graded look.
One of the challenges with this shoot was the lack of ambient lighting, so we worked with flashlights and had each Einstein plugged into the awesome and portable Paul Buff Vagabond Mini. These little wonders seriously hold a lot of juice. Just don't forget to keep your modeling light off when using it. All three batteries lasted 7 hours worth of night shooting starting from 6pm to 1am in the morning!
How It Was Shot
Shot with: Panasonic GH2 with Olympus 4/3 Zuiko 14-54mm f/2.8-3.5 (28-108mm ff equiv)
Focal length: 17mm (34mm ff equiv)
Shutter: 1/160s
Aperture: F/7.1
ISO: 200
I used a 22″ silver ePhoto Beauty Dish on camera left as fill light for both models. I feathered the light more towards the male model because I want it to act a little more as a key light for him and also because it is very easy to blow out the white dress if there is too much light on it. One of the challenges with working with battery power is not having modeling lights, so there are always constant adjustments to make. That's why I like the Einstein system because I can use the Cyber Commander to remotely trigger and adjust the power of the Einstein.
Right next to the camera is an Einstein with the 7″ reflector that I use as both a key light on the female model and a subtle overall fill.
Finally, the Einstein with the 74″ parabolic light modifier umbrella is placed just outside of this tree cave to light through the fallen canopy and act as the rim light on the female model to create a separation between her and the background.
Before and After Retouching
In a later article, I will also talk about what I did in Photoshop to color-grade and retouch the image. In the meantime, check out the before and after and let me know what you think!

To see more of my work, be sure to visit my site, Fotosiamo.com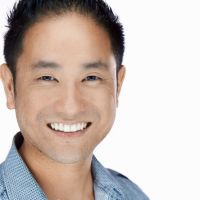 fotosiamo
Joe is a fashion and commercial photographer based in Los Angeles, CA. He blends creativity and edge with a strong style of lighting and emotion in his photographs.