Overview
The following is an excerpt from the SLR Lounge Lightroom Workflow System Workshop on DVD, a system designed to increase your post production speed by 5 to 10 times. Click here to learn more.
When prepping for your studio workflow, it is important to make sure that your Lightroom software has the right settings to ensure that image post-production runs smoothly. To help you out, we have provided a written as well as a video tutorial that goes through how we setup the preferences for Lightroom. Initial setup is critical to producing images that are both consistent and match the quality needs of your clients.
Watch The Video Tutorial
General Preferences
Let's get started with general preferences first. When you open up 'Preferences', the 'General' tab should already be selected. We have a few tips for programming these settings to your advantage below:
The first setting you want to make sure to select is "Automatically check for updates." This way, every time you open up Lightroom it will automatically update so you won't have to worry about updating it yourself. Not only do updates fix bugs in the software, but they also add compatibility to new RAW formats.
The default catalog is usually best set to "Load most recent catalog" so recent and unfinished catalogs can be pulled up immediately to finish where they were left off.
Go ahead and deselect "Show import dialog when a memory card is detected" so your workflow is not interrupted every time a card is plugged in.
Another way to be efficient in your production process is to know exactly when photos are finished importing or exporting. In the "Completion Sounds" section under the 'General' tab, you can select a sound to play so you know when you can get back to working on editing photos or transfer them to a disk for your client.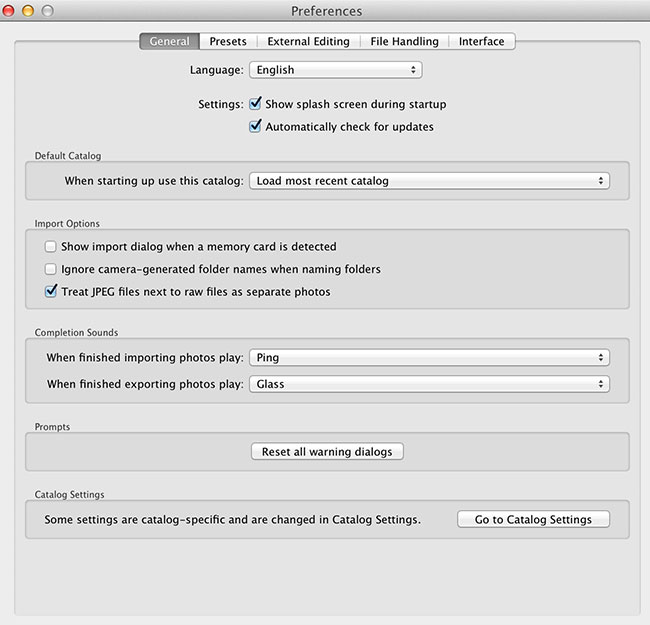 Presets
Next, we have our 'Presets' tab.
Make sure that first two automatic adjustments are deselected because it will cause the software to "guess" the correct develop settings for images which is most often wrong. Also, if you shoot bracketed sequences for HDR, you wouldn't want Lightroom to attempt to automatically correct your bracketed photos.
Most importantly, make sure and deselect "Store presets with catalog." If this option is selected, it will make your presets specific to only one catalog meaning it will not appear for any other catalogs opened and your presets will be gone.
External Editing
In the 'External Editing' tab, Lightroom's color space is ProPhoto RGB so its best to select the same option for PSD files.
For bit depth, 16-bits/component is usually best to select as long as you don't use a lot of additional effects and plugins. With 16-bit color depth, you will get the best detail in your images when going from Lightroom to Photoshop, although it is a small difference (generally only noticeable in subtle graduating colors).
For resolution, we leave it at 300 to make sure all prints will display great detail given that most printers will print around 240-300 DPI (some even beyond).
Select "Stack with original" so that both files end up next to each other.
File Handling
Moving on to the 'File Handling' tab, make sure that the location for the "Camera Raw Cache Settings" is your fastest internal hard drive. The reason why you do would not want an external drive is because they are likely to be wired through either USB 2.0, USB 3.0 or Firewire, for example, which are all slower than being attached directly to your motherboard. In our studio, we have two solid state drives: one for the operating system and one for a working or "Work in Progress" drive, which is the one we use for the cache file location.
For the "Maximum Size" option, make sure you create a buffer large enough for each catalog so that all the previews can be stored inside of the cache folder at the same time. If you don't allocate enough space for all of the image files, then Lightroom will be forced to pause and wait to generate more previews. As event and wedding photographers, we set it to 50.0 GB so there is plenty of room for many (around 3,000 – 4,000) high quality images. For your studio, decide how much space will be adequate for a typical workflow.
Interface
In the 'Interface' tab, there are a few options that we feel make a big difference in maintaining consistency in our workflow.
We strongly recommend that the background and secondary window fill colors are set to default "Medium Gray" so that the images produced are more likely to be the right exposure. If it is set to "White", the background can play tricks with our eyes and can come out too dark to compensate for the bright white background. Of course, with "Black", your images might be over-exposed to compensate for the dark background. So a medium gray is a good medium to keep a consistent and naturally balanced exposure for your produced images.
On the bottom of the 'Interface' tab is the "Tweaks" section. Select the "Zoom clicked point to center" option to allow you to zoom into the location on the image that you click instead of just going to the center of the image whenever you zoom in. This will make workflow much quicker for the simple reason that you will not need to move over to a specified area after it zooms into the center.
Conclusion
We are done setting up our optimal Lightroom Preference settings, so let's move on to the next article.
To learn more about the SLR Lounge Workflow System Workshop on DVD or to purchase it, click on this link.