One of the many facets of fashion photography is learning how to pose and capture more than one model together in the same frame. It seems simple enough in theory, although there are a lot of different details to consider with styling, casting and posing. Anita Sadowska shares some of her insight to working with multiple models as well as shares her recommended gear for aspiring fashion photographers.
The Gear
Prior to shooting, look at images for inspiration to get a sense of what looks and feels natural. When casting make sure to book two models of similar height; it is even better if they are from the same agency as they'll be more prone to share the images on their social media platforms.
Anita also suggests booking models with similar features; if one has strong cheekbones, make sure the other does two as they will compliment each other quite well.
Posing the model very close together creates a feeling of familiarity and a sisterly bond whereas posing the models farther apart appear too contrived and creates feelings of tension. The soft and familiar approach is always a good go-to and creates beautifully feminine results time and time again.
Choose an exposure setting that keeps all subjects in focus with Bokeh to your liking. Keeping the models in the same plane will make it easier to assure all subjects are in focus as well as allow for a shallower depth of field if more Bokeh is your thing. Premium primes such as a 35mm f/1.4, 50mm f/1.2, 85mm f/1.2 and a 100mm f/2.8 macro lens offer variety as well as more velvety Bokeh; it is also extremely expensive.
After working with the 24-70mm f/2.8, Anita found that this was a great all-around lens and covered the majority of the focal lengths she works with. In fact, she recommends this in combination with a 100mm f/2.8 macro for anyone just starting out and building their photography kit as the two lenses will deliver wide angles and beautiful portraits with just enough Bokeh.
Either option will cover the demands of the job and help build a solid portfolio whether you choose to go the route of premium primes or a 24-70mm and 100mm macro lens and all brands have worthy contenders. All focal lengths can be used in a variety of natural light conditions as well as studio lighting, lifestyle and high fashion; it depends on your overall aesthetic and budget.
Be sure to check out and subscribe to Anita's YouTube Channel as well as her Instagram to keep up with all of her content.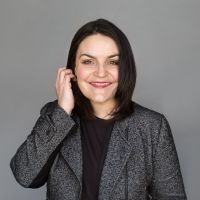 Brittany Smith
Brittany is a fashion and beauty photographer who works between NYC, Montana and LA. She photographs the way she has always wanted to feel and believes in the power of raw simplicity. When not behind a camera she can usually be found at a local coffeeshop, teaching fitness classes at the YMCA, or baking something fabulous in the kitchen. Instagram: @brittanysmithphoto