In an age where production value reigns supreme and many of the modern trends are taking inspiration from Daft Punk's playbook by being bigger, better, stronger and faster in order to reap attention from the masses, it is often the minimalist approach that delivers the unanticipated shock value and takes your breath away. Less is more.
Richard Avedon, one of the most iconic photographers of all time, demonstrated the power of simplicity and gave the world a front row seat to his ever evolving career. While he may be best known for his animated fashion and glamorous celebrity portraiture, it is perhaps his commissioned series, "In The American West", that really show his mastery of the medium.
"I'm looking for people who are surprising, heartbreaking or beautiful in a terrifying way; beauty that may scare you to death until you acknowledge it as a part of yourself." 

– Richard Avedon
Spanning the course of six years, nearly 17,000 8×10 sheets of Kodak Tri-X film and approximately 750 subjects, Avedon focused on the ordinary working class Americans in their imperfect clothes with the same precision provocation as the movie stars and fashion models who had come before them. With minimalism in full force, he created an incredible and compelling body of work that is still circulating around art galleries today.
Marcy James with the Rocky Mountain School of Photography has used this project as a means of teaching photographers that they too can create timeless images without a lot of gear. Here are her 5 tips for capturing images in likeness to Richard Avedon's "The American West":
You don't have to have a studio, you can go right outside. Avedon wanted his light to be invisible and ultimately opted for open shade.
Simplify. Choosing a white background eliminates distraction, pulling the focus to the subject, their expressions and gestures, and the minute details that may otherwise be overlooked.
Be prepared to invest a lot of time when undertaking a project of epic proportions such as this in order to create a definitive body of work.
Don't limit yourself. Avedon played to his strengths and transferred the raw energy and poise that he articulated in his fashion work into this portrait series.
Portraiture is a compromise between the people in front of the lens and the person behind it. Know who your are, exude your style and own it.
Richard Avedon's work continues to withstand the test of time and inspire photographers everywhere to continue creating timeless images. The simplicity is sheer genius in nature as it provokes the viewer to slow down and get lost in the details while evoking a sense of wonderment and feeling.
Click here to subscribe to RMSP's YouTube channel.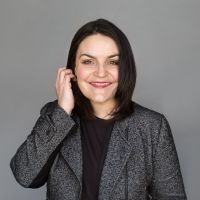 Brittany Smith
Brittany is a fashion and beauty photographer who works between NYC, Montana and LA. She photographs the way she has always wanted to feel and believes in the power of raw simplicity. When not behind a camera she can usually be found at a local coffeeshop, teaching fitness classes at the YMCA, or baking something fabulous in the kitchen. Instagram: @brittanysmithphoto