Having a personal studio is a goal for many photographers during the onset of their career. As enticing as it sounds and appears to be, the truth is that the undertaking and maintaining of a studio can be as expensive as it is taxing; it is a huge commitment and emotional investment. Simply put, having a studio can be overwhelming.
Because of this, many photographers find themselves either renting a studio to shoot in or shooting in their own home. Jessica Kobeissi often chooses to shoot in her own home and is back with a very clever and cheap way to create your own backdrop for an in-home DIY studio setup that costs less than $5.

You Will Need:
Sponge
Plastic Table Covers
Jump Rope
Tape
Binder Clips
Washable Kids Paint
This can all be found at the local Dollar Store.
Liberally pour the paint onto the sponge and apply it directly to the table cover by either blotting it or smearing it, whichever you like best, and then let dry. Tape the jump rope onto the wall to serve as a background stand and then clip the painted backdrop to the jump rope.

Backgrounds can cost upwards of $100 to well over $1,000 for the likes of an Oliphant which adds up fast, and that doesn't even include the background stand. The backdrop doesn't have to be perfect, it simply has to work for its intended purpose and this is a very creative and inexpensive way to transform your own home into an in-home studio.
You don't have to invest in top of the line gear such as Broncolor or Profoto when starting out either. Paul C. Buff produces strobes and modifiers that are wallet friendly and their customer service is top notch.
Gear Used
Be sure to subscribe to Jessica's YouTube Channel and follower her on Instagram for more creative, inexpensive and DIY ideas to try out.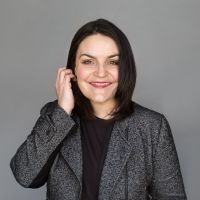 Brittany Smith
Brittany is a fashion and beauty photographer who works between NYC, Montana and LA. She photographs the way she has always wanted to feel and believes in the power of raw simplicity. When not behind a camera she can usually be found at a local coffeeshop, teaching fitness classes at the YMCA, or baking something fabulous in the kitchen. Instagram: @brittanysmithphoto