The internet is a vast universe unto itself and there is no way to explore it all. On one hand, this is amazing because it provides nearly unlimited space for creative people to share their work with the world. However, it also allows for people to steal that work and use it for themselves, almost undetected. You may not be able to stop it completely but, you do have some recourse in the event it happens. In this video Anthony Morganti, shares actions you can take to find out if your images have been stolen.
Option #1 – Google Yourself
In the search results, you may find that your image has been "borrowed." This is when someone uses your image or content on their page without your permission, but gives you credit. You may be identified as the creator of the image and there may be a link back to the original source – your website or the site on which you host it. Ultimately, it's up to you if you want to take action with this.
Set an alert for your name or website. As Google crawls the internet, it will email you if it finds the search term(s) you designate. Make sure you put your name in quotations as that will limit the search to your name and exclude results containing on only half of your name.
Option  #3 – Reverse Image Search with Google Alerts
With this option you can search for your image by using the image's URL or by uploading it so Google can scan the internet to find it.
 Go to Google.com
 At the top right, look for and click on Images
Click on the camera icon in the search bar
In the search bar you will have two options.
Paste image URL
 Search by image upload
To obtain an image's URL, you right-click and scroll down to the pop-up menu to select "copy image address." Return to the Google search bar and paste the URL.
You can find Google alerts here.
 (paid) Option  #4 – Digital Watermarks
A digital watermark is a watermark that is imprinted on your image that is nearly imperceptible to the naked eye. The service referenced in the video is Digimarc and it is a plugin you use to apply the watermark in Photoshop. They search the web for this digital watermark and report back to you. This is a paid service and they offer three options:
Basic -$59
Business -$119
Enterprise – Custom
The first three options in the video are good tools to use for the everyday photographer, but the last tip seems to be an option for established business owners whose bottom line will be affected by their work appearing without compensation. Wherever your needs lie regarding the protection of your images, these tips are good place to start.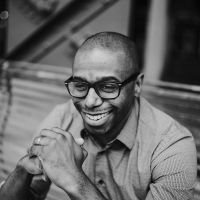 Wendell Weithers
Wendell is based in Atlanta where he shoots events, portraits, and food photography. He also supports his wife Andrea as she runs their cake design business, Sweet Details. Instagram:
Wendellwphoto