Wouldn't it be great if every portrait client booked only in golden hour and had the budget to spring for an incredible location time and time again? As dreamy as it sounds, it can hinder our creative skills and leave us visually stunted. Not to mention, it is leaving money on the table.
Our job as photographers is to be able to capture moments in the crappiest of locations and make it look pleasing to the eye. We often create something from nothing. One of my favorite challenges is to photograph in less than ideal light as well as locations and force myself to create a usable image. This challenge forces us to hone in and sharpen our skill set. It also opens the eye to see what more is possible.
When dealing with what appears to be an eyesore of a location, take a step back and process what is possible. Some things to consider in these instances are color and textures of the background, available light and an interactive background.
Choose a color palette and background that can further push the narrative of the story you are trying to tell. Similar colors within the background and wardrobe can create an overall mood whereas bright colors contrasting against dark textures can shift the focus to the client. Survey how the available light connects with the scene and the subject. Playing with shadows and harsh light can elevate the overall image and create visual interest. Lastly, having the subject interact with the given background can put the final touch on the image.
When photographing in anything other than a picture perfect setting, dust off those critical thinking skills and embrace the challenge. Pushing past that comfort zone and forcing oneself to create something from nothing on the fly enhances our skills as photographers and often leads to some compelling imagery.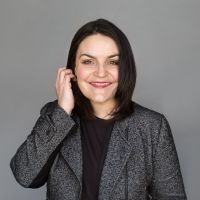 Brittany Smith
Brittany is a fashion and beauty photographer who works between NYC, Montana and LA. She photographs the way she has always wanted to feel and believes in the power of raw simplicity. When not behind a camera she can usually be found at a local coffeeshop, teaching fitness classes at the YMCA, or baking something fabulous in the kitchen. Instagram: @brittanysmithphoto