As 'creatives,' the expectation that we continually pull ideas from the ethers can be draining, and it's easy to get stuck in a creative rut, but fortunately there is a wealth of inspiration available in the mortal realm if we only open our eyes.
Photographer Ed Verosky has made a video detailing his favorite ways to keep the creative juices flowing, and if you've been feeling creatively blocked this might just pull you out of it. We'll go in-depth on the first of his favorite inspirational haunts, and you can watch his video to hear the rest.
Bookstores, The Quiet Muse
Quality bookstores (and, we would add, libraries) are brimming with information. Along with books encompassing technical know-how, you can find many published works of photographic masters like Annie Leibovitz, Peter Lindbergh, and Richard Avedon, to name but a few.
It's increasingly common that newer photographers don't know the work of their icon-creating forebears while being intimately familiar with those who have risen to YouTube fame. But, it can be so inspiring to imbibe the light, the composition, the power of those photographers who made it big in another era, some of whom are out there still, working in the field as living legends.
What the purveyors of books offer over the things we see online is tangibility. We at SLR Lounge have written of the magic of print, and it applies here as well. It's another experience to view photographs that have been delivered into the physical world, and it can be an inspiring one.
For a trip through contemporary photography, look no further than the magazine stand. Magazines are an excellent way to see current photography as it is being used in the world today. Flipping through big-name magazines will typically present a view into the polished world of commercial and editorial work, whether that be food, portraiture, fashion, or the product work you can see adorning the advertisements. For more artistic, rather than commercial, photography peruse independent magazines.
Finally, these places offer another critical resource for photographers that is often overlooked: books and magazines filled with art. As in, non-photographic art. Paintings, mosaics, sketches, and more – all types of art can present a less expected avenue to expand your creativity. Applying inspiration found in other kinds of art can differentiate your work from that of the masses finding their next idea in the same video by a well-known photography educator.
Check out Verosky's own words below, and pay the video's YouTube page a visit for his collection of links. Now that you're inspired, get out there and shoot!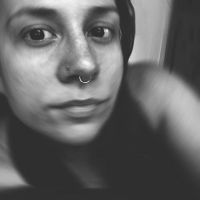 Holly Roa
Seattle based photographer with a side of videography, specializing in work involving animals, but basically a Jill of all trades. Instagram:
@HJRphotos