As artists we tend to put our heart and soul into much of what we do and as the camera becomes an extension of ourselves it is all too easy to form an emotional attachment. This can be problematic for a number of reasons, especially when curating a portfolio.
A photographer's portfolio is to serve as an alluring body of work highlighting only the creme de la creme of imagery, making the viewer crave more – preferably wrapped up in an impeccable gallery of no more than 20 images. And it is ideal if among those selected works that there are fewer than two images from the same set and no two images are overtly alike. It is imperative to keep the attention of potential clients.
When a photographer is emotionally invested in their work, how can they decide what makes the cut? Below are a few tips when it comes to culling the beloved gallery.
Is it representative?
Creating and curating a portfolio is a time to be center focused, self-indulgent even, and it should be representative of the type of work you aspire to do. If it isn't, take the time to capture what feeds the soul, even if it doesn't pay at first.
Survival of the Strongest
Scan over all considerations with a discerning eye and objectively remove the weakest links one by one. Poor composition, mediocre styling and images where the timing was slightly off should be removed immediately. Look for well-executed photographs where everything comes together and works effortlessly.
Separate Thy Self From Thy Art
The top images in an artist's portfolio shouldn't need to have its place justified. Simply liking an image isn't enough; they need to earn their gallery spot and speak for themselves. A good exercise is to separate yourself from what you do or remove yourself from the recalled feelings of that particular image.
With emotional investments set aside determine if a) the image is indeed a strong image and b) if it is worthy. Treat the process as though it were simply business for future transactions and choose only a handful from each set for consideration.
Peer Review
Once the former Mt. Everest sized pile of images are finally culled to a manageable size, take a step back and seek the input of a trusted peer. Make sure the peer wants what is best for your future and not their ego, and vice versa.
A fresh set of eyes can see enormous possibilities that those who are otherwise too close to the situation can miss. Lay the images out in order and talk through their thought process as they view the portfolio and then discuss the intention of the layout. It is worthwhile to do this with more than one person as each new perspective sheds light on new potential.

Image Consultant
There are times that additional help is needed to either further curate a portfolio or take it to new heights. Image Consultants are professionals who specialize in working with photographers to create their best photographic presence.
Consultants have had years of practice and have usually helped numerous photographers ascertain their goals of getting to the coveted next level. These experts are absolutely an investment that can be worth their weight in gold. Below are a few industry recommendations.
A successful portfolio is an artisan-crafted body of work that borders on indulgence. Less is always more when it comes to creating a personal portfolio that is worthy of fireworks. For everything else that doesn't make the cut, there's Instagram.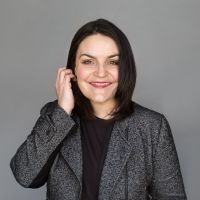 Brittany Smith
Brittany is a fashion and beauty photographer who works between NYC, Montana and LA. She photographs the way she has always wanted to feel and believes in the power of raw simplicity. When not behind a camera she can usually be found at a local coffeeshop, teaching fitness classes at the YMCA, or baking something fabulous in the kitchen. Instagram: @brittanysmithphoto