Have you ever attended WPPI? Ever wonder what goes into putting it all together from a speaker standpoint? Well our own Vanessa Joy has put together her first mini-documentary about the whole process featuring a plethora of the talented speaker, educators, and companies who help put this incredible show on.
Originally the brainchild of Seth Miranda, Vanessa brought this project to life quite literally on the show floor, giving an insider look at the presentors and what it's like being in the spotlight as a public speaker for such an educational and networking heavy event.
[Related Reading: Why You Should Attend WPPI 2020 (and 5 Tips for Making the Most of the Conference)]
"You can talk to people on the phone or online, but that's no substitute for in person interaction." While education and product demos are a very big draw, the networking and face-to-face meetings are what's really important at this trade show. The show has been known to launch careers and many creatives have found their calling, and sponsorships by attending the show and just meeting the right people!
I myself love going and have been attending now for over 8 years straight, and largely it's due to this show being about the only time a year that I can see some of my favorite photographer and creative friends & colleagues in person!
Are you interested in presenting at WPPI 2021? Submissions close May 7, 2020 so APPLY NOW: https://wppiexpo.com/speaker-call/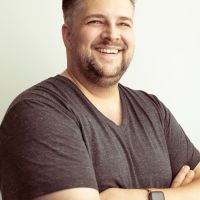 David J. Crewe
David J. Crewe is a full-time commercial photographer and Senior Editor with SLR Lounge. Based out of both Southern California & Las Vegas, Nevada. View his work and blog:
DavidJCrewe.com
Follow his Instagram:
@DavidJCrewe