This is a shooting tutorial that was submitted by Li Cheng in the SLR Lounge Forum.
Background and Vision
I have always been interested in shooting long exposures and sunsets over beautiful beaches. I wanted to shoot at a beach that has a rocky landscape instead of the typical sandy shoreline, which is why I chose Laguna Beach in Southern California. The final HDR image is a result of three bracketed photos.
How It Was Shot
Shot with: Nikon D300s
Lens & Focal length: Sigma 10 – 20 F4-5.6 @ 10mm with a Hoya HMC ND8 Neutral Density Filter
Shutter: 1 to 2.5 second
Aperture: F/9
ISO: 200


When I got to Laguna Beach, I realized that I wasn't going to get a shot of the sun setting into the ocean because the sun sets 90 degrees to the beach behind a peninsula. Luckily, there was a pretty interesting cloud pattern in the direction of the rocks. I used the Hoya HMC ND8 Neutral Density Filter because it allows me to use longer shutter speed to get that wispy water look.
The shots were taken right after the sun had set behind the peninsula to the right of camera.
I shot three photos bracketed at -2/3, 0.0 and +2/3 EV. Afterwards, I brought them into Lightroom and Photoshop as layers.
Post Processing
After I brought the photos into Photoshop, it was a matter of selectively masking in the water and sky. The way a layer mask works is that whatever you paint in white in the layer mask becomes visible. Whatever is in black stays hidden.
The final Photoshop image was a little too saturated for my taste but I had a brain freeze and forgot to use the Hue and Saturation adjustment layer.
Instead of redoing the top layer I decided to just de-saturate the final image a tiny bit with HSL in Lightroom. Hope you guys enjoy it!
Final Image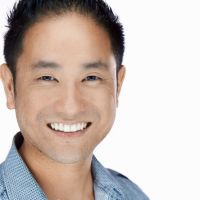 fotosiamo
Joe is a fashion and commercial photographer based in Los Angeles, CA. He blends creativity and edge with a strong style of lighting and emotion in his photographs.