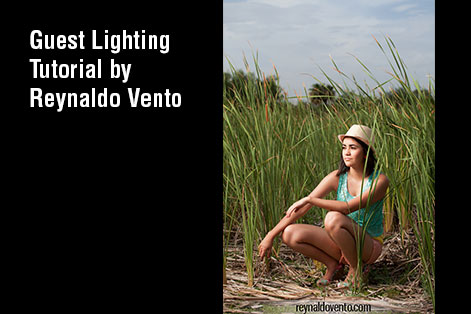 This is a shooting tutorial that was submitted by Reynaldo Vento in the SLR Lounge Forum.
Background and Vision
This photograph was captured during a recent summer portrait session here in South Texas. While there were several shots that I liked, this particular photo is my favorite.
Her expression of being lost in thought is what drew me in to this picture when I was reviewing all the images in Adobe Bridge.

Photo by Reynaldo Vento

How You Shot It
Shot with Canon 5D Mk II and Canon EF 70-200mm f/4 L IS USM Lens
B+W 77mm Neutral Density 0.9 Filter
Focal length: 70mm
Shutter: 1/160
Aperture: F/5.6
ISO: 200

I wanted to blur out the distracting mesquite and palm trees in the far background, but even at f/5.6, the image would have been overexposed by the ambient light. That is why I used the ND filter to darken the image. Then, I balanced out the exposure on her by using the strobe lights.
I used a 43″ ePhoto umbrella softbox reflector on camera left as my main light being lit up by an Einstein strobe. I purposely placed the main light on camera left because I wanted it to mimic the direction of the sun's rays during that time of day. This also allowed me to not worry as much about possible cross shadows.
Finally, there was a bare Canon 580EX II speedlight positioned slightly behind her and aimed to the back of her head.
How It Was Processed
This is how the image looked straight out of camera.
The post-production process was rather minimal. First, I increased the exposure to +0.15 and the recovery slider to +17.
Next, I added two curves adjustment layers to fine-tune the exposure balance. The first curves adjustment layer with linear gradient darkened the high midtones a bit. I also used a radial gradient from dark to transparent to keep the adjustment layer from affecting my subject.
The second curves adjustment layer lightened the sky back to bring in some blue. Again, a small radial gradient on the layer mask was used to ensure her face was not brightened.


That's it! If you would like to see more of my portrait work, visit: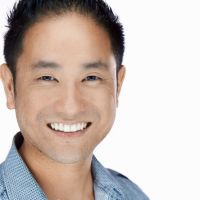 fotosiamo
Joe is a fashion and commercial photographer based in Los Angeles, CA. He blends creativity and edge with a strong style of lighting and emotion in his photographs.