We've all heard the arguments, praises, and nay-saying about the new mirrorless systems that have been announced over the last year. Both Canon and Nikon released new full-frame mirrorless cameras, and totally new lens mounts to go with them, to compete with Sony's well-established FE/E lens mount. Personally, we think the mirrorless vs DSLR debate is a dead horse- mirrorless is the future. (Even more reasons to move to mirrorless discussed in a post from Fstoppers regarding the benefits of Mirrorless and silent shooting for photojournalists.) But now we're left to figure out which brand will dominate that future?
[Related Reading: Canon Explains Why RF Lenses Are Better Than EF]
Most will say that Sony has been, and still is, dominating the (Mirrorless) market. Canon's EOS R and RP camera bodies omitted two major features that are offered in the Sony A7iii- dual card slots, and in-body stabilization. Nikon's Z6 and Z7 do offer sensor-based stabilization, but they both use a single memory card slot. And let's not even talk about the limitations of these cameras' video features compared to Sony…What most people aren't focusing on or even talking about are the new lens mounts and what that means in the quality of the glass.
Consumers Are Better Beta Testers
Of course, it was probably smart for Canon, to release mid-range camera bodies first, this way they can use the customer feedback to help make sure their first flagship-grade mirrorless camera is truly amazing. But, let's be honest, the current EOS RF bodies leave something to be desired for most all types of photographers or videographers, even non-pro hobbyists and enthusiasts.
But, what if I told you that all the doomsday talk has got it completely wrong, and Canon is in fact onto something genius with their RF lens mount as a whole? Of course this is just an opinion, but it's also based on a lot of facts about the RF lenses Canon has already announced, and what's rumored to be coming.
Much of the same can be said for Nikon, too, since they also have an all-new Z mount that allows them to break free of the admittedly restrictive F-mount they've been using for 60+ years. Of course, only time will tell, but in this article, we'll outline just why we think now is a very exciting time for both Canon and Nikon, and why Sony, ought to sleep with one eye open.
The Importance of Mount Diameter And Flange Distance
One of the biggest subjects in the "Mirrorless versus DSLR" debate, of course, has to do with the lens mounts. In a mirrorless camera, the lens mount (and the glass in the lens) can be a lot closer to the sensor, which can lead to better image quality and (slightly) more portable lenses.
Also, a larger mount diameter allows the optics of a lens to get better light transmission to the corners of a sensor, which again will afford potentially incredible image quality in those corners, although it may take some extra glass in order to achieve it.
Sony's E mount, which only gained the "FE" designation for certain lenses after they decided to add full-frame to their existing APS-C mirrorless mount, is in fact quite a bit smaller than Canon and Nikon's new mounts. It's also got a bit longer of a flange distance, but not by much.
This does allow Sony to offer some incredibly portable lenses, at least in certain focal lengths and apertures. For example, Rokinon's 24mm f/2.8 and 35mm f/2.8 primes are downright "tiny", as are some of the Sony ~50mm and 85mm primes. When paired with the highly portable Sony A7iii or A7Riii, they do represent an impressively portable and affordable package.
However, the E mount may not have been originally optimized for full-frame, which means that there might be limitations to what focal ranges and apertures can be achieved. (We haven't seen an AF Sony 50mm f/1.2, for example.)
What does this mean? Well, if all you ever need are f/2.8 zooms or f/1.4 primes, and nothing faster, then you'll likely be totally happy with amazing lenses such as the new Sony 24mm f/1.4 GM or 135mm f/1.8 GM, and their great (but not very lightweight, compact, or affordable) 24-70mm and 70-200mm f/2.8 GM's.
But, if you're dreaming of even more exotic glass, then yeah, you guessed it- Canon's RF lens lineup may start to look more and more tempting to you.
The Canon RF Lens Lineup – A Portrait & Wedding Photographer's Dream?
Canon has already released two RF lenses that no other system seems to be able to match yet: the impressive (and massive, and expensive) RF 28-70mm f/2 L, and the jaw-droppingly good RF 50mm f/1.2 L. Both of these lenses are a portrait photographer's dream, with their incredible corner-to-corner sharpness, as well as that dreamy smooth bokeh and "character" that Canon L lenses are known for.
But, Canon isn't done yet, in fact we've likely only seen the tip of the iceberg. The official mock-up of the RF 70-200mm f/2.8 L made a huge impression, when it was seen at trade shows earlier this year and was literally the size of an iPhone X or coffee cup.
A compact, lightweight (and yet hopefully flagship quality) 70-200mm f/2.8 would be unprecedented for any full-frame system, considering that Sony's 70-200mm f/2.8 GM is in fact just as big and heavy as the current name-brand DSLR competition. (Oh, and don't forget the even more massive Sigma 70-200mm f/2.8 Sports, which tips the scales at nearly 4 lbs!)
Canon has also had a plethora of patents pop up over the last few months, from a quite believable (and probable?) 16-28mm f/2, to ridiculous unicorns like a 14-21mm f/1.4. I would even wager that we're going to see some sort of whole new "holy trinity" at f/2, considering that rumor of a 16-28 f/2… we might also see a 70-150mm f/2, or even a 70-200mm f/2! That would be, well, crazy!
Canon seems to be pulling some sort of Babe Ruth move here. They're swinging for the fences, shooting for the moon, or whatever catchphrase you prefer. And, that's what you do, if you've been the number one brand for decades, the system of choice for many high-end pros who need truly exotic, amazing lenses that allow them to take their work to a new level.
Catering to the portrait and wedding photographer, I would love to see massive f/2 zooms at my disposal, and yet also have decently portable f/2.8 zooms when I need them. I'd love to have f/1.2 primes for those key focal lengths that I shoot tons of portraits, and decently portable, affordable f/1.8 or f/2.8 primes. And, of course, all nightscape photographers will salivate over the thought of an f/1.4 or f/2 ultra-wide zoom.
In short, if you're a fan of very exotic glass, with incredible image quality, Canon might very well eclipse the competition in the next few years.
The Nikon Z Mount – A (Literally) Massive Comeback
In the past, Nikon had the smallest diameter lens mount and they never switched mounts in the 80's or 90's like Canon did when autofocus became prevalent in SLR cameras.
This made it impractical for Nikon to ever release an f/1.2lens, (with autofocus), for the F mount, while Canon had multiple versions of both.  Also, Canon EF DSLR lenses in general, were already capable of, shall we say, "cramming more glass" into any given optic, and were known to have gorgeous bokeh and "character".
With the Nikon Z-mount system, however, the tables have turned. This new mount is even bigger than Canon's new RF mount, and it's utterly massive compared to Sony's E mount.
This is how a lens like Leica's current unicorn, the new 58mm f/0.95 Noct, is possible. And it will likely have incredibly good image quality, even wide open, too. (It will cost a fortune, weigh a ton, and is manual focus, however.)
Nikon also has a 50mm f/1.2 on its roadmap, and if it is anything like the current 50mm f/1.8, it will be an impressive lens. Unfortunately, however, we haven't seen as many shockingly exotic options from Nikon yet as we have from Canon, despite Nikon's Z mount being the larger one. So, only time will tell if they will be able to deliver the same full lens arsenal that a portrait or wedding photographer might dream of.
As a side note, Nikon's Z mount is not only the widest diameter, but also has the shortest flange distance. This makes it the only mount that can potentially adapt both of the other lens systems to it, something which a company called TechArt has already been working on. So if you're OK with non-native lens issues such as potentially less reliable autofocus, you may very well be able to soon use RF Canon, (and Sony FE), lenses on your Nikon Z-series body. What a time to be alive, eh?! (Ps, we've requested to test and review the TechArt adapter, so stay tuned for that)
Which Types Of Photographers Should Take Notice?
Okay, let's be realistic. Do you personally need an enormous f/2 zoom, or a pricey f/1.2 prime? You might want one, sure, but for a $2-3K price tag, it might be out of your reach if you're a more casual photographer. In fact, one of the biggest reasons that many people switch from their old DSLR to a mirrorless system is for its portability, and "f/2 zoom" and "portable" will likely never wind up in the same press release.
However, if you'd like to push the envelope further than ever before, you'll probably be seeing a lot more capability coming from Canon's RF mount, and possibly from Nikon's Z mount, over the next few years. If Canon produces a 1-series class of mirrorless camera in the next year or so, they'll be rapidly claiming ground in the mirrorless market. With the rumor of an entirely new set of "holy trinity" glass at f/2 for the RF mounts, we may just see an entire generation of shooters make the leap to mirrorless being able to shoot pretty much ANYTHING you can throw at them with just 3 pieces of glass in their kit.
What are your thoughts? You're welcome to comment below call this a fanboy's dream, but let me ask you this- have you shot with those RF L lenses yourself? They're definitely a dream, and more of them are on the way.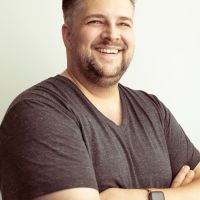 David J. Crewe
David J. Crewe is a full-time commercial photographer and Senior Editor with SLR Lounge. Based out of both Southern California & Las Vegas, Nevada. View his work and blog:
DavidJCrewe.com
Follow his Instagram:
@DavidJCrewe