Is it always best to choose quality over quantity? Not always; especially as the importance of developing and maintaining a social media presence continues to grow.
One of the biggest hurdles of gaining followers is catching their attention and keeping them coming back for more with large quantities of decent content. Smartphone editing applications make this caveat a breeze by allowing photographers to edit images in minutes and then upload them to Instagram. Fashion Photographer Anita Sadowska is back with another video to share her iPhone editing workflow.
The Applications
AirBrush
FactTune
VSCO
Anita first imports her images into Lightroom and makes very basic adjustments such as camera calibration and tweaking the vignetting. She then exports the image to her phone at about 2000px in size. It would also be wise to make any necessary global adjustments prior to exporting the image.
Airbrush is used first for minor adjustments and small skin imperfections. It acts similar to the healing brush in Photoshop by clicking the blemish and sampling the skin around it to correct it. There is also the option to smooth the skin, however, it is very heavy handed in its approach and rather unforgiving.
Instead, Anita chooses to smooth any skin in FaceTune because it has the ability to lower the opacity for a more authentic look. FaceTune also has the ability to add texture as well as toning by picking the desired color and painting it on the image.
VSCO is used last for customizing the overall colors and tonality of the image and there are many custom presets to choose from. There are many other editing options including skin tone, color temperature and ting, vignette and grain to name a few.
These applications are nowhere near as powerful as Photoshop or CaptureOne nor are they trying to be. Editing on a smartphone allows the user to take a step back and provides a refreshing break for the simple images that don't require the heavy lifting of said powerhouses and will live on Instagram.
Be sure to check out and subscribe to Anita's YouTube channel if you haven't already. You can also keep up with her on Instagram.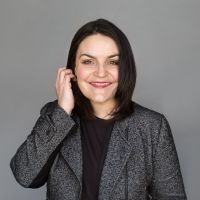 Brittany Smith
Brittany is a fashion and beauty photographer who works between NYC, Montana and LA. She photographs the way she has always wanted to feel and believes in the power of raw simplicity. When not behind a camera she can usually be found at a local coffeeshop, teaching fitness classes at the YMCA, or baking something fabulous in the kitchen. Instagram: @brittanysmithphoto