I've been following the work of Clara Wilson ever since she posted a disturbingly haunting image in a local photography Facebook group where she was criticized because her photos were not the normal bright, happy gorgeous shots typically seen in our area. I noticed a Tim Burton style influence in her images, for which there definitely is an audience.
Wilson's conceptual imagery is surreal, dreamlike and often disturbing, but beautiful in the simplicity of her composition. I was quite inspired by her call to photographers to stick to their creative vision and style, even if (perhaps especially if) it's vastly different from those around you. I also appreciate her shout out to all the people who have supported and taught her. No artist is an island. We are all influenced by those who came before and who are walking along side us in some way. I hope you glean something valuable from her wise words…
How long have you been a photographer? What got you started in photography?
Throughout my years, I seemed to always be the one with a camera. I took pictures of everyone at every event. About 8 years ago I really found myself interested in Photography as a means of self-expression. I did many self-portraits. I found it easier to manipulate images of myself than of others. Manipulating images into what I saw in my head was a form of therapy for me. I would look at images of myself and just not see what I wanted to express, so I would change them to fit the vision in my head. It was through this process that I realized I could be whatever I wanted in an image. I could transform myself into anything. I could be sexy, scary, crazy, and at times I combined all into one image…
I heard of a site called MySpace, and when I signed up, I realized I could share my images with the world. Some of my images received a lot of interest, mostly from friends and family in the beginning. I started getting requests from people asking me to do something "crazy" with their images. If it wasn't for the interest and support from others, I don't think I would have pursued Photography to the extent that I have. I no longer use MySpace, but I have to give credit to the platform that helped me get my work out there in the beginning. I feel that in the last five years my style has evolved into a more realistic genre of creative manipulation. The name of my business, Smoke & Mirrors Photography, was born from the theory that not all that can be seen is reality. My work means more to me now than it did before. I try to achieve my visions during a shoot, and rely less on extensive post processing. I still use post processing to polish my images into the mood I want to express, but have toned down on the extreme manipulation. I have matured as a Photographer and an artist.
Did you study photography formally? Where?
I am currently a Photography major at Spokane Falls Community College. The Photo Arts program has helped me evolve. I am going into my third year of a two-year program. I make fun of myself all the time with statements like, "I have been here for 30 years" or, "If I ever leave this place…" I knew that going at a slower pace would help me retain and learn more.
My first instructor was Greg Roth. He has been supportive of my work and me. There were actually times when I thought my choice of going back to college at my age was crazy. He may not know this, but he is one of the reasons I have stuck it out and am now so close to finishing my education.
Melissa Rackham walked me through my first experience in a dark room. Her guidance through learning the process of shooting and developing film has changed the way I shoot digital. Melissa made me see the importance of getting it right in camera and not relying on post manipulation as much. A difference some digital Photographers just cannot learn unless they have knowledge and experience in the processing of film.
I have also learned the importance of storytelling through images. I have my first classes with Ira Gardner this quarter. Even though I am just starting to learn the teachings of Ira I have already been influenced in how I would lay out a photo story and how to better express myself through my images and presentation.
Erik Sohner, the best of the best! Being taught and guided through this program, under the skillful watch of one of the most talented artists I have had the opportunity to meet, has been invaluable to my progress. Erik enables and encourages me to push myself beyond what I thought I was even capable of. His honest, and sometimes painful critiques, have made me more aware of the technicality of what it takes to create a successful image.
The instructors in the program are so supportive and we are lucky to be taught by some of the best in the industry!
What inspires your work?
I think I find most of my inspiration through life experiences. I have been a vivid dreamer my whole life and I cannot discount the hours that I sleep as being part of my life experiences. My dreams are where I visit with loved ones I have lost, where I can fly, where I can be ten feet tall and where I have experienced places and situations that I could never experience in my waking hours. If I wake with a vision the first thing I do is contemplate how to express that through imagery. I have a dark place in my mind, which draws me to a great interest in the macabre genre. I even find myself twisting what could be a simple pretty portrait into something out of the norm. When people comment on my work, I hear the words creepy, strange, unique and different a lot. This does not bother me, I embrace that part of me and I always take it as a compliment. I do not want to be ordinary, or in the words of fellow photographer and friend Deke Cloyd, I do not want to be "vanilla."
Tell me about your unique studio space.
I recently acquired a studio space in my little city. I was originally interested in a space that was for lease on the ground level of Main Street. While I was in the hair salon, my hairdresser called the property owner and said, "I have a photographer here who is interested in the space next door." He then mentioned the space upstairs might be a better fit for me. I made a viewing appointment with him and met him for the walkthrough 2 days later.
I can still feel the rush of pure excitement when I walked up the stairs for the first time. I had heard many rumors about this building, particularly the upstairs. Over 3,500 square feet of history and years gone by. The building was built in 1889 and was used as many things over the years. I have not found much of a paper trail to support some of the claims of what all went on in this space, but the space speaks for itself. There are about ten rooms total in my studio space. Each room has served its own unique purpose over the last century. A movie theatre, a formal ballroom, and even a funeral home. Two of the rooms still have hooks in the closet with the words "Pall Bearer" inscribed into the wood. There are piles of bricks in one room, which are rumored to be from the original crematorium that was located there.
All of these stories may have been off-putting to some, but to me I felt like I had found heaven on earth! I signed the lease immediately and went to work on cleaning and clearing out some of the rooms. I am a little freaked out when I am there alone at night; I feel a presence at times, as if I am not alone, but over the months I have settled in and am ok with sharing the space with whatever may still be lingering.
What gear do you shoot with?
I shoot with the Canon 60D, which I bought from a good friend. It was a welcomed upgrade from my previous camera. I would have to say that my go-to lens is the Canon 85mm f/1.8. I also have recently started to embrace the use of off camera flash heads. I place them in hidden spots around a room or a setting to get light just where I want it. This works great for me, especially when I want to keep a certain ambiance or darkness to my images while still giving light on the subject.
Are there any special techniques you use?
Most of my technique comes though in post processing. I am an avid user of Adobe Lightroom 5. When I am photographing, I usually have already envisioned the post processing, and how I want the final image to look. Unlike my earlier years where I did the opposite, I would shoot an image first and then see where the processing took me. I create my own presets, all of which have names such as vintage, dark shadows, filmstrip, grain….This has made post processing go faster for me, I can go to a created preset, make minor changes, and try to keep a consistent flow and feel to my work. I also love using natural light and hard contrasting shadows indoors. Placing my subjects in front of windows and doorways and letting the light frame them.
What are your goals and aspirations for the future of your work?
I would love to start showing my work more, in galleries or print publication. I have struggled with a feeling of "where do I belong", as far as my style goes. I plan on pushing myself more in regards to getting my work out there and sharing what's in my mind. I will continue to shoot portraits, and offer my clients a truly unique experience and final product/image.
Anything else you would like to share? Advice for other photographers?
I just want to express how supportive my friends and family have been. I would not have persevered through the down times if it were not for them. My children have been my muses over the years and some of my most favorite pieces have my children as subjects. I want other Photographers and Artists to surround themselves with people who are supportive and encouraging. I think we can all understand the phrase "Struggling Artist", but whether you are a hobbyist or going for the gold as a professional Photographer I would say please do not stop. Do not let the thought of making money or not making money guide your process.
Do you have a style that stands out from the norm? Not quiet sure where you fit in the industry? I'd love to hear from you. Leave a message in the comments with a link to your portfolio.
SLR Lounge REWIND: Wouldn't Clara's spooky images look fantastic in these carved Halloween Pumpkin Frames? I totally want to try this.
CREDITS: All images have been provided by the artist. Photographs by Clara Wilson are copyrighted and have been used with permission for SLR Lounge. Do not copy, modify or re-post this article or images without express permission from SLR Lounge and the artist.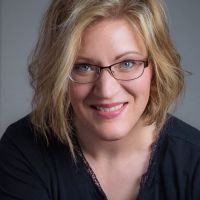 Tanya Goodall Smith
Tanya is the owner of WorkStory Branding Photography in Spokane, WA. Businesses hire her to create story-telling content that sells their high end products and services. She also teachings photographers her unique business model for making serious money as a corporate and personal branding photographer. Find her at
workstoryphotography.com
and
workstoryeducation.com