It's about that time – your neighbor realized they want last-minute holiday cards and turned to their trusty photographer friend to get the job done. These sessions go by quick and it can be difficult to nail all of the shots necessary to create the perfect holiday card. Here are 5 useful holiday photo tips to get the most out of your quick holiday mini photo sessions!
1. Scout Locations & Consider Props
Since these sessions are short and sweet you want to make sure to select a location that offers ample options for backgrounds. This could range anywhere from parks, to the beach, to in-home sessions. Here are a couple of things to consider before selecting a spot.
Permit Fees
You'll likely be competing with other photographers to get the best locations in town which could lead to overcrowding of a particular spot. Make sure to research whether or not the location has any permit requirements to avoid having to pack up mid-shoot.
Props
Get into the festivities with some creative props that will help give context to your images. This is optional and based on your clients' preference; however, it will help distinguish the images from being regular family portraits.
2. Coordinate Outfits & Color Schemes
Have a quick chat with your clients about wardrobe to ensure that what they choose to wear works well with the scene you are photographing. This is an important holiday photo tip because lack of considering outfits could lead to lack of coordination and planning, certain outfits can make or break the aesthetic quality of the image. This can easily be prevented by following two rules:
Complementary Color Scheme
After selecting a location, decide which colors complement the scenery to balance out the color in the frame. For example, in this scene, we have a lot of green and nature in the frame we chose to do earth tones and reds as a complementary color story. Matching outfits are also a great option for holiday photos! You can use this color wheel to help you educate your clients on which colors work best together.
Monochromatic Color Scheme
Now when we think of monochromatic, generally we think of black and white, but it isn't limited to just these two. Monochromatic, as far as black and white goes, is based on grey, but you can also have monochromatic color schemes that are based on red, or based on browns, or whatever tone you want; it's just basically different shades of the exact same color. Read more about color schemes here.
3. Vary Up Posing & Cues
With anywhere from 30-60 minutes to capture a solid set of photos, you want to get a good variety that allows your clients to pair images together. Using our Foundational Posing Framework, here are some options for you to try out.
Static Poses
V-up: Everyone's feet are faced in towards each other at a slight angle so that their bodies aren't completely closed off to the camera. Place their hands around each others' backs or wrapped through their arms.
Close Up: works great for couples and families. From a V-Up have your subjects lean their heads towards each other and close up their bodies for more of an intimate pose.
Sitting: Find a bench, tree branch, or set up a blanket that everyone can sit on.
Separate Kids from Adults: this is a great opportunity to get solo shots of each member of the family to create a collage for the holiday card. This is also a perfect time to get all possible combinations of family members together.
Kids' Perspective: In order to balance out the heights between children and parents have the adults take a knee to get down to the kids' eye level.
Action Poses
Walking: one of the easiest actions to implement on a quick shoot that allows you to focus on multiple components in one frame. Switch up between a wide angle lens and a tighter portrait lens to get close-ups of each member of the family.
Child Toss: An easy way to get little kids giggling and excited is to have one parent toss the child in the air. Works like a charm every time!
Ring Around the Parents: Have the children run around in circles around their parents. Have the parents pose in the center, but make sure you capture the candid moments in-between as the children run around.
Tickling: An easy way to get some great candid laughter is to direct the children to tickle their parents (or vice versa). Take them to the side and whisper to them to tickle their parents on your count of 3.
4. Focus On Quality vs. Quantity
Working in a tight timeframe like this can cause a lot of stress if you don't approach it with the right mentality. Focus on getting a couple of 'home-run' images rather than rapid-firing and delivering multiple mediocre ones.
5. Tell The Full Story
Lastly, understand the purpose of these photos and what they will be used for. Although every family needs that quintessential image of everyone looking directly at the camera, there is so much more you can bring to the table when it comes to artistry and creativity.
Wide, Medium, Tight
A good rule to follow to ensure that you've got all your bases covered is to shoot wide, medium, and then tight. Start off by setting the scene with a wide shot that showcases the location and scenery. Then, move in closer to identify the subjects with a full body portrait. Finally, punch in with a zoom or telephoto lens to focus in on your subjects' faces. This makes for a great set of images for your clients to choose from to make the perfect card, while still offering a variety of poses and backgrounds in a short session.
Posed & Candid Moments
After taking a set of images in which all of the subjects are looking at the camera, have them turn into each other and interact and laugh with one another. This allows you to get multiple expressions without the entire session looking too forced and posed. Some of the best images happen when you aren't directing, so be on the lookout!
We hope you enjoyed these 5 holiday photo tips! What are some of your favorite tips or cues for capturing holiday photos? Leave them down in the comments below!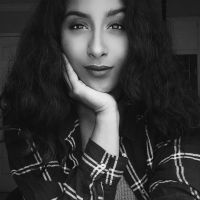 Shivani Reddy
Shivani wants to live in a world where laughter is the cure to pretty much everything. Since she can't claim "Serial Bingewatcher" as an occupation, she'll settle for wedding/portrait photographer at Lin and Jirsa & marketing coordinator here at SLR Lounge. For those rare moments when you won't find a camera in her hand, she will be dancing, eating a donut, or most likely watching Seinfeld. Follow her on Instagram:
@shivalry_inc