Our "SLR Lounge Artist Feature" articles highlight the top photographers in the world. This article features Hillary Younger of Hillary Younger Photography (Hobart, Tasmania). Hillary is a well-accomplished landscape photographer; educator and speaker; and Haida ambassador. Featured by both Australian Geographic and On Landscape, Hillary has a true passion for connecting to the land and exploring the relationship between self and the landscape.
Thank you for taking the time to speak with us Hillary! We'd love to know a bit of your story. How did you get into photography?
I have been riding horses from the age of three and had my own horse at four. From then on, I rode through untamed bushland, increasingly alone. And since then, my joy was always in animals and nature. In 2007 my life fell apart, but I was left with a camera that I started to use. I taught myself, influenced through reading and also studying the work of

Galen Rowell

 and two Tasmanian landscape photographers (

Olegas Truchanas

and

Peter Dombrovskis

). Truchanas and Dombrovskis' photographs were used in campaigns to save wild places in Tasmania from development, damming, and logging. To a large extent, my motivation to pursue landscape photography has been conservation and protection of what I love, wild nature. For me, the joy of photography is centered around being alone in wild places. And in having a voice to protect them.
For our readers looking to improve their landscape photography, what are some tips you could offer them?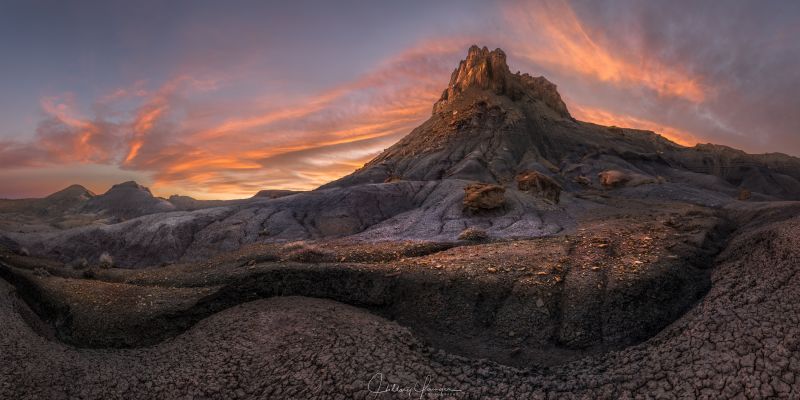 Beginning landscape photographers think they photograph the landscape, but that is not really true. Rather, what you photograph is light. That said, if you have remarkable light, you may have a remarkable photograph. First, search for remarkable light. Second, find something earthbound with which to match it. Also, keep in mind that light leads the eye. And in that journey, your photograph can tell a story and engage the viewer in a very magical way.
You sent over some really amazing photographs for this feature. Tell us about one of them. How did you create it? Why is it your favorite?
I recently created "Desert Winds" [photograph pictured above] in the very extreme conditions of the Mesquite Flat Sand Dunes (Death Valley, California). At the time, the winds were gusting up to 100 miles per hour! I placed a rain jacket over my camera to protect it from the flying sand. And I had on a balaclava so the only thing exposed on my body was my eyes, over which I wore a wrap around a pair of sunglasses. I was exhilarated to be out there alone, with no footprints and with the sun setting behind the mountains in front of me. And it was incredibly challenging. …

I used my 24-70mm lens at 26mm. I wanted to capture a sunburst, even though it would be subtle, with the diffused atmosphere from blowing sand. So I took exposures at f/22 and exposed for the sun. As well, I took exposures at f/11, exposed for the dunes. Finally, I combined two exposures for the final result. I think it captured what I wanted, which is why it's one I like very much.
What gear helps you create your outstanding photographs, especially considering some of the adverse conditions in which you photograph?
I use my Nikon 14-24mm lens the most. I love a wide angle view of the world. Also, I love leading the eye through the frame, from a dramatic foreground through to distant light. Having said that, purchasing the Nikon 80-400mm opened up a wealth of possibilities, from vignettes of branches before powerful waterfalls to mountain peaks. In fact, I'm still discovering the delights of telephoto landscape visions. I love my RRS tripod, with its extra long legs. It gets me photographs I could never get with a standard tripod.

While I do not use filters for many of my photographs, filters definitely expand possibilities. For example, sometimes I want to slow things down, to capture cloud or water motion. And that requires the use of ND filters. Haida filters are perfect for me for several reasons. They have negligible color caste. Moreover, they make the filter holders adaptable, with adaptor rings so they fit all my lenses. Thus, there is no need to carry multiple filters to fit different lenses. Overall, the main filters I use are ND filters and a circular polarizer.
We'd love to share some of your upcoming speaking engagements, workshops, and projects with our readers. What do you have coming up?
I just spoke at Focus Australia's "Landscape Photography Awards Night," for which I was one of the three judges. I will be co-leading a photography workshop on the Oregon Coast with Candace Dyar in May, 2019. Additionally, I'm "Guest Photographer" for Fagus Week 2019, which will be held from April 27 to May 4 (Cradle Mountain, Tasmania). I will be giving two evening presentations throughout that week. It's a week at Cradle Mountain, Tasmania's most famous National Park. The native deciduous beeches will have their autumn colors, transforming the surrounding alpine area.

And, on a personal note, I'm changing direction a bit to pursue a more photojournalistic project in the Western Himalayas. I intend to use this project to to create awareness of the effects of climate change. Most importantly, I want to highlight the plight of the people and ecosystems that are dependent on the mountain ice fields of the world for their water, in the face of the rapid glacial retreat.
You can see more of Hillary's work on her website, Facebook, and Instagram. And you can get all of her latest workshop information here. Thanks for reading and be sure to check out the latest SLR Lounge Award winning photographers here! Don't forget to submit by the December 31 deadline to be considered for SLR Lounge's December 2018 awards competition, including our newest category: landscapes and cityscapes. Finally, remember that anyone can sign up for an SLR Lounge account for free and submit, but Premium Members are able to submit up to three photographs each month!
Please note, all photographs in this article are copyrighted by Hillary Younger of hillaryyoungerphotography.com and have been used with permission for SLR Lounge. Do not copy, modify, or re-post/publish this article, or the included photographs, without express permission from SLR Lounge and the artist.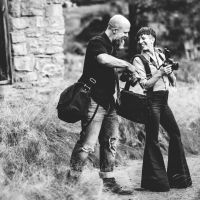 Amii & Andy Kauth
Amii & Andy are a wife and husband team of rad portrait and wedding photographers (Sunshine & Reign Photography) who absolutely love life and are generally just stoked! Yeah! When they aren't photographing or writing and teaching about photography, you'll find them off on a seriously legit adventure with their little ones, lifting weights in their garage, training jiu-jitsu, refining their archery skills, or surfing every chance they get. And on the rare chance they escape off on a "date night"? Yep! They'll find a wedding to crash (true fact). Website:
Sunshine & Reign Photography
Instagram:
@sunshineandreign