Welcome to our roundup series where we will hit on several gear news and rumor topics each day. This gives you a chance to get caught up on all of the day's news and rumors in one place. Make sure to check back daily for the latest gear news, rumors, and announcements.
Hasselblad Shopping Around, Phase One Leading Contender?
Probably the most interesting thing I read all morning was about how medium format & luxury brand Hasselblad has continued its proverbial swirl down the toilet bowl in recent years. The company bungled its attempts at rebranding Sony products with poor design, and – let's be nice – interesting pricing choices.
The medium format business is not in much better shape, apparently, with the latest crop of cameras from the major MF companies all using the same Sony sensor. According to Hasselblad's annual report, unless the company is purchased or rescued, it may not see it through 2016.
Rumor site, Photo Rumors published an interesting thought this morning, regarding the possible purchase of Hasselblad by Phase One. The move would make sense in that it would basically give Phase One the entire MF market (besides what Pentax has been putting out), but it would also be odd because Hasselblad's only real value to them is the brand – something that Phase One doesn't really need.
The company who could really stand well to be Hasselblad's knight in shining armor here is Fuji, but the real question is if they want to go that route. We have heard for a while about how Fuji could have plans to go into the MF space, passing the FF market altogether. Purchasing Hasselblad would not only give them the tools to do that with a running start but also give them a luxury brand to base it all around.
Or what about Ricoh? They could buy Hasselblad and use their knowledge and expertise to improve their Pentax 645 cameras. I find that doubtful, but who knows. Nothing is certain at this point, except that Hasselblad is in real trouble. It will be an interesting 6-8 months for sure.
Zeiss Loxia and Otus Announcements Coming Soon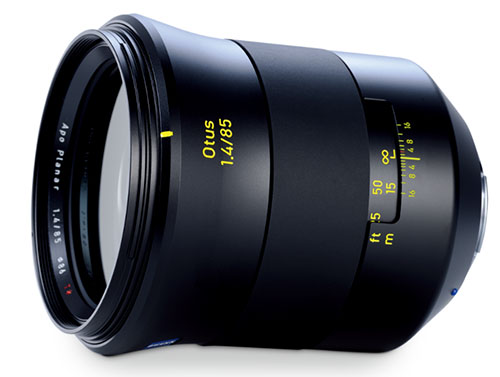 According to a new report citing a 'high credibility source', Zeiss will announce the next round of Loxia and Otus lenses between October 12th and 16th, just ahead of Photo Plus 2015.
The rumored Loxia lens is the 21mm F/2.8, a lens that is supposed going to be based on the 21mm F/2.8 Biogon ZM lens. It will, of course, join the 50mm F/2 and 35mm F/2 Loxia lenses which have already proven to be some of the best third party options for the Sony FE system yet.
The rumored Otus lens will also be on the wider side of the spectrum, with an expected focal length of 28mm with an F/1.4 aperture. It will join the 50mm and 85mm Otus lenses that have set the bar for 35mm lens performance over the last couple of years.
I don't know about you guys, but I am excited to see what Zeiss comes up with here. Being a Sony shooter, every FE lens announcement – even if I have no plans to purchase it – is something to get excited about.
Report Claims Sigma Has No Fuji X Plans For the Future
I am going to file this under things I already knew without being told, but in case you were holding out some hope, here we go. According to a Fuji Rumors report this morning, Sigma has stated that it has absolutely no plans for adding Fuji X mount support to its lens lines.
This is not really a surprise, as I said above, if any APS-C/FF mirrorless company was going to get the love it would be Sony (which there are a few, let's call them sub-par, APS-C Sigma 'Art' lenses) and their FE system. The fact that Sigma has yet to really produce anything of note for any mirrorless mount shows that the are still taking that 'wait and see' approach to see what companies stand out once the DSLR really starts to decline.
Still, it's sad to hear. Both Fuji and Sony could greatly benefit from Art series lenses for their camera systems, and both systems would likely produce some killer art with Sigma's help.
CSTV A7R II Review Part II – Video Features
Last week, I shared the CSTV A7R II review, part one, and this week I wanted to follow that up with part two. In this part of the review, Jordan talks about the video features of this camera, and how the 'overheating' is being overblown (something I agree with from my limited video testing so far). If you have been thinking about getting the A7R II for both stills and video, this is the part you will want to see.


What are your thoughts on today's roundup? What news/rumors did we miss? What would you like to see covered in future roundups? Leave a comment below and let us know what you think!