Few lenses, if any, are so coveted like Leica Noctilux primes, and the latest iteration is the longest focal length of any of the type, and the most expensive, which is all a recipe for desire – even if it's not quite as bright as Noctis that have come before it.
The Noctilux-M 75mm F1.25 ASPH will be 'hitting shelves' soon, and we should be getting one to test very soon too. However, our friend Matt Granger was able to get a hold of one in New York recently and has made a little video featuring it and shared some of those images.
The Nocti is an M-mount lens, but in the video we see Matt using it with a Leica SL and utilizing an adapter. No doubt this makes sense, as Leica has been making notable efforts to bring the SL more into view, and how better to show it off than with a Nocti attached? But Matt brings up a good point that the SL makes easy work of manual lenses like the 75mm due to peaking, and while you have that option in live view from the M10, it's not quite the same.
But seeing as though he's on the SL, Matt was also wielding the new APO Summicron-SL 90mm F2 ASPH, which is also coming out shortly and built for the SL. Leica's APO lenses are generally a cut above the rest, and in fact, their non-APO lenses are often at the standard of what some other manufacturers would consider APO, so the 90 is a truly appealing offering. Coming in at less than half the price of the 75 Nocti makes it even more so. Both will have veneer-thin planes of focus too, if that's what you're going for, even if the 90 won't completely distort the reality of a noisy background like the 75 might.
Anyway, have a look at the teaser, and as soon as we get our copy of the Nocti we'll bring it on some shoots and share the experience.
Gear Used (Lenses for Pre-Order):
The Leica Noctilux-M 75mm f/1.25 ASPH
Leica APO-Summicron-SL 90mm f/2 ASPH
Model: Stephanie Pham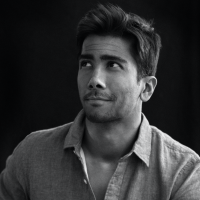 Kishore Sawh
A photographer and writer based in Miami, he can often be found at dog parks, and airports in London and Toronto. He is also a tremendous fan of flossing and the happiest guy around when the company's good.