Sony is continuing to up the ante in the photography world with high-quality gear that is turning the heads of long time brand-loyalists, including myself. The gear that they are producing is innovative and somewhat ahead of their time. Their latest round of gear announcements includes the FE 100mm f/2.8 STF GM, FE 85mm 1.8, and a radio equipped HVL-F45RM flash. You can read the full press release from B&H Photo here.
Sony brazenly states that their FE 100mm f/2.8 STF GM produces the highest quality bokeh for a lens, and it is the first of its kind. This lens differentiates itself from its competitors by producing the most natural bokeh without distortion and vignetting at the edge of the frame. At certain depths of field, it does, however, feel a bit understated in comparison to other portrait lenses we have become accustomed to, and naturally, you would want to shoot wide open to get the smoothest results. Also, the lens is not a low light lens with a T-stop of 5.6, and that's okay because it isn't pretending to be. That being said, the FE 100mm may not live on your camera body most of the time as other lenses tend to do.
The build quality is superb and it feels luxurious in your hands.  With its image stabilization and apodization filter, this lens does not disappoint, and if you missed our first hands on from the release day, STF stands for Smooth Trans Focus. It definitely delivers on its promise of keeping the subject tack sharp with buttery soft bokeh time and time again.
The 100mm STF is also very responsive; it immediately adapts and shifts from blurry to sharp with the push of a button, with very little lag time if any. When shooting through obstacles, it is able to quickly focus on the subject and the results are beautiful. In fact, it tracks its subjects so well that I had a difficult time getting the lens to miss focus. With a twist of its barrel it can fill in as a macro lens and does the job quite well, and no doubt this will most likely be a favorite go to lens for wedding and portrait photographers alike. The price tag is set at $1,499 and is currently available for preorder.
Gear: Sony Alpha A7R II, FE 100mm 2.8 STF GM
Tech Specs: ISO 1600, f/5.6, 1/160 of a second
Gear: Sony Alpha A7R II, FE 100mm 2.8 STF GM
Tech Specs: ISO 1250, f/5.6, 1/200 of a second.
The FE 85mm 1.8 is filling a void in Sony's current lineup of lenses as a more accessible lens for its price point. As an entry level product, this lens has a lot of promise and very little compromise. Even though the lens is comprised primarily of plastic, the build quality still feels solid.
While the 85mm 1.8 does not have the image stabilization that the GM series have, it didn't seem to be an issue and it did not miss when shooting wide open. When put to the test in lower light situations, it focused quickly and delivered. Where it did seem to be a little slower was shooting through objects and focusing on the subject. However, it does seem to adjust its auto focus at about the same speed as its mid-level 85mm competitors on the market. As someone who has shot primarily with Canon's 85mm 1.2L for the past few years, I can assure that it is well worth the value with a price point of $599.
Gear: Sony Alpha A7R II, FE 85mm 1.8
Tech Specs: ISO 400, f/1.8, 1/200 of a second.
Sony's newest wireless radio flash is the HVL-F45RM. It is their first flash that comes equipped with a built in 2.4GHZ radio transceiver. The flash is compact in size in comparison to its predecessors. The flash head swivels 360 degrees (180 in each direction), and the HVL-F45RM has a wireless capability of operating up to 15 different units within 5 groups. With a range of just under 100 feet and approximately 200 flashes for the battery life, this gives a lot of freedom when shooting. The price point of this flash is very competitive with its peers at $399.
Gear: Sony Alpha A7R II, FE 85mm 1.8, HVL F45RM flash
Tech Specs: ISO 1600, f/1.8, 1/250 of a second.
It is safe to say that Sony has been making a (not so subtle) attack on today's camera systems. Sony is producing equipment that photographers of all levels want; in many cases they don't know they want it yet, and still exceeding expectations. It is no wonder that they have long time brand loyalists jumping ship. After being witness to benign and uneventful upgrades over the years, it is exciting to see a company that's truly innovating again. Sony's newest offerings are available for preorder and will begin shipping by the end of March 2017.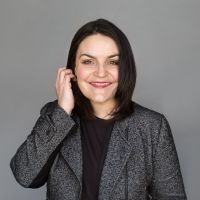 Brittany Smith
Brittany is a fashion and beauty photographer who works between NYC, Montana and LA. She photographs the way she has always wanted to feel and believes in the power of raw simplicity. When not behind a camera she can usually be found at a local coffeeshop, teaching fitness classes at the YMCA, or baking something fabulous in the kitchen. Instagram: @brittanysmithphoto