The world is not normal, and neither is the world of photography. It's way bigger than 'normal.' It's more impressive than 'normal,' and more shocking than… 'normal.' If you allow it, it can be likely more incredible and stimulating than you could hope for in a lifetime, or you can be lost in it, discarded to the fray.
These days, when you look at the rather tall glass of water that is the current photography business, you're likely to see it as more full or more empty than before. Like a parallel between it and our classes, the middle is shrunk, and competition is more stiff. It may leave you feeling optimistic and sanguine, and yet at the same time, dubious, and all at once cautious. It may leave you ambivalent.
Yet, it seems to be that if you want to leave a mark, to differentiate and land work, being ambivalent can lead to stagnation, and that is the last thing you want to be. That will not allow you to recognize just how stiff the competition is you're up against, nor will it let you see just how quickly and fiercely you can compete. It will leave you as 'normal'.
One of the first steps to overcome this, and to secure work, would be to be seen, and one way to be seen is to avoid what actions can be grouped into any typical dogma. Doing a promo mailer alone may seem to be a way to stand out, for example. It's not. Not unless you're going to make it something special, something like this.
Clint Davis, like rather many photographers with skill and drive, had a decent body of work, and it was growing. He wanted it to grow more, and to reach a different caliber of clients. He used to be an Art Director for multiple national magazines and that experience gave him, as he says, "…a front row seat to photographers and illustrators sending me promotional mailers." Noting that only few caused him to stop and look, and most were impersonal and simple and boring, he knew his had to be 'stop' worthy. He had a previous mailer which was already on the right track called 'Give Me a Shot,' and this new one, with a different class of work to include, is like the work, in a different class altogether.
It's an expansion of the first mailer, but looks more like a modern remake of a 1950s classic. The theme was based around the word 'shot,' and the double entendre here is all too obvious; there's the bullet shells hand painted to look like a Canon 70-200, then there's the bullet holes in the prints (neatly done), then the Pelican Case which looks like something a hit man would carry his piece in. But of course, the name of the game is to get a shot at work, so he displays his best, and personalizes each set.
Every detail seems to have been considered down to the hand painted logo, and envelope. For the full details and breakdown of the process, see here, but check out this behind the scenes look at the making.
Thoughts
Looking at the work he has done, and the type, this layout and such, makes sense. I like that there seemed to be an incorporation of theme, and how the packaging reflected the work. I suspect different types of photography would be better suited to different delivery, but that's the beauty of it. It's different. I'm frankly very impressed.
Some of you may wonder, how much good can come of something like this; clearly the investment is sizable, so what's the ROI? Well, he mentioned that the first mailer he did cost around $800 for the set of 40, and when asked about the ROI this is what he said,
Gauging the success of the first mailer is hard, but overall it was more than worth the relatively small investment. Socially and popularity wise it was HUGE. It put me on the photography map, and inadvertently landed me a job as a designer at a local ad agency that represents Mercedes-Benz, Microsoft, and other big names. Eventually, I was given the opportunity to shoot the 2014 Mercedes-Benz Sprinter campaign.. so you never know how the progression of success will take you.
Clint, ever forthcoming with information, also went on to say that while he won't divulge just how much was spent on this set of mailers, that they will be a success if only to get a single job out of it, which, for this new set, already has come in. 

Inspiring stuff.
CREDITS: All photographs shared by Clint Davis are copyrighted and have been used with permission for SLR Lounge. Do not copy, modify or re-post this article or images without express permission from SLR Lounge and the artist.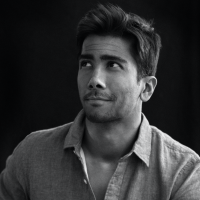 Kishore Sawh
A photographer and writer based in Miami, he can often be found at dog parks, and airports in London and Toronto. He is also a tremendous fan of flossing and the happiest guy around when the company's good.