When it comes to shooting wedding receptions with multiple speedlights, it is important to be able to control which lights will flash at any given time. This is especially true when you are shooting with a second shooter. So our challenge is to find a trigger that can control each lights separately while giving the flexibility to fire in groups as needed by each photographer.
In this review, we will see if the Phottix Stratos ll Multi Trigger can be an effective and reliable wireless trigger that does not break the bank.
Watch the Video Review of the Phottix Strato II Multi Wireless Trigger
Features
– 4 groups: A,B,C,D
– 4 Channels
– 150+ m range
– 1/250 sec. sync speed*
– Flash wake-up functions*
– Hot shoe / PC Flash triggering
– Studio strobe triggering
– Wired and wireless shutter release functions
– Pass-through hot shoe on transmitter allows on camera flash to use TTL functions*
– 2.4 GHz. frequency
– uses AAA batteries
– Compatible with Phottix Strato™ 4-in-1 Wireless Triggers
* On compatible flashes and cameras
The Walkaround
The Phottix Strato II Multi comes with two identical-looking units, the transmitter and the receiver. The transmitter goes on your camera's hot shoe while your receiver goes on a cold shoe. On the topside, both units has a hot shoe for mounting a speedlight and a test button to test the triggers' connection.
The Transmitter

The Transmitter goes on your DSLR's hot shoe and controls which channel and groups will fire. Starting from the left side there is a slider that lets you select which of the 4 channels. There is also a test button that lets you check to see if the 2.4GHz radio signal is transmitting properly between the transmitter and the receiver.
On the opposite side of the transmitter is the power switch as well as the 3.5″ flash sync port. It's good to have a slider for a power switch because I have had triggers that would inadvertently turn itself on while stashed inside a camera bag because the power button is a push button.
Finally, the back side houses the 4 group buttons that allows you to control which light grouping will fire at any given moment. So for example, if you have two lights in the front of the room designated as A and B, and you have two lights in the back of the room set on C and D, you can choose to only trigger A and C lights for a cross lighting look, or just C and D lights for a silhouetted look. It's that simple!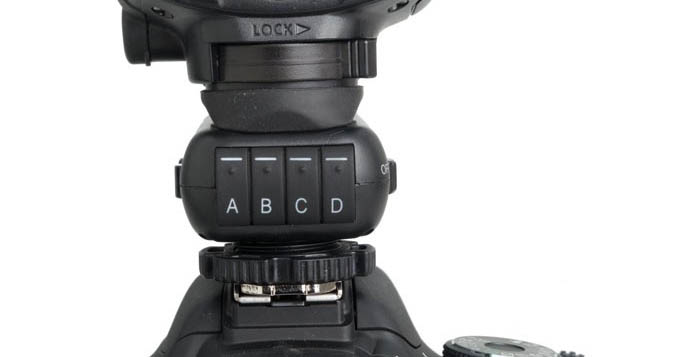 The Receiver
The receiver also has the same channel switch on its left side. However, on its right side a slider for the ABCD groups replaces the sync port. The rear side of the receiver now houses a 5-volt port, a 2.5″ cable release port to trigger your camera, and a 3.5″ flash sync port to connect a sync cable to a studio strobe.
Using the Phottix Strato II Multi Triggers
The Phottix Strato II Multi Trigger is pretty straightforward to use and best of all, it is very reliable. We have used it for the last 6 months and I can't think of any time where it misfired. The transmitter also has a "pass-through TTL hot shoe", which means that if you have a Canon, Nikon, or Sony DSLR, you can still send TTL signals to a speedlight that is attached on top of the transmitter.
Finally, the trigger has over range of 150 meters (1 1/2 football field), and it has a max sync speed of 1/320th second.
Conclusion

The Phottix Stratos ll Multi Trigger is versatile, simple to use, very reliable, and competitively priced. For around $93, you can purchase a transmitter and receiver pair from Amazon.com.
This trigger makes a great alternative to more expensive trigger systems like the Radio Popper JRX that we reviewed or the Pocket Wizard Plus III that we also reviewed.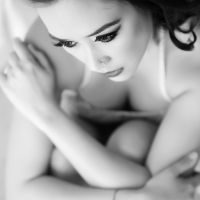 Michelle Ford
Michelle is a Southern California Portrait and Wedding Photographer. When she's not geeking out with a camera she's nerding out in her IT world. All other moments in the day are spent with her two wonderful children. See her work on
The COCO Gallery
check out her blog at
frexNgrin