Introduction
If you were to scroll through the more popular wedding blog sites littering the Internet today, you will find plenty of pretty detail shots with beautiful creamy bokeh and extremely shallow depth of field. There are breathtaking shots of the bride and groom, some together, some alone, usually surrounded by some type of epic landscape. If you're looking to see some of the most beautiful wedding photos that are oozing with creativity, they are simply a click away.
The problem I have is that these wedding blogs have become the focus for many photographers, getting published by them as both a form of advertisement and bragging rights. What you usually won't find in these blogs are beautiful and artistic shots of the bride and her father, groom and his mother, or other family members that are important to them. These shots usually don't offer the same type of creativity or do the best job of showcasing the photographer's style.
With new photographers coming into the wedding industry every day, trying to get their portfolio built, beautiful family shots aren't usually high up on their priority list. As a wedding photographer, you have a responsibility, to capture the memories from the wedding day of the bride and groom with their close family members as if they may not be around in a few years, months, or even days. Memories that are filled with emotion and not just a simple look at me and smile.
My Experience
In 2005, I got married to the girl of my dreams overlooking a beautiful lake in the Pocono Mountains of Pennsylvania. It was a hot and sunny day, so and I wasn't really digging the idea of taking all the photos that my photographer wanted me to take, I simply wanted to enjoy the day. He pushed for tons of family photos, photos of me with my Mom, my Dad, my grandparents, even throwing out cheesy lines to get everyone to smile and loosen up a little.
All of this was taking place while the rest of the guests were having fun at the cocktail hour, including my wedding party. I remember telling him that I just wanted to go and enjoy myself, that we had taken enough. He continued to tell me that we were almost done and stressed the importance of these photos. Photo after photo, it seemed to go on forever.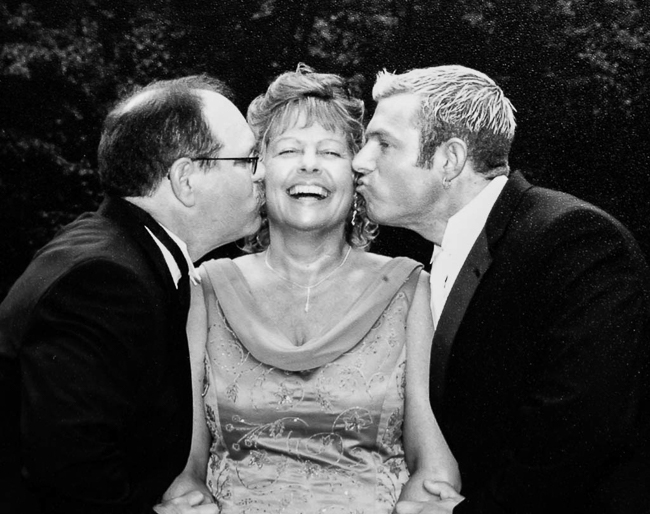 My mother was a wedding photographer throughout my childhood, so seeing her son get married was something she had always talked about and looked forward to. She was the one who always had a camera and took all the family photos, so she was rarely in them. I remember seeing the joy and happiness on her face as she got to be on the other side of the camera for a change, getting her photo taken with her son on his wedding day. It was a happiness like I had never seen before. Little did I know at the time, but those photos would soon become some of the last that I would have of us together.
Six years after my wedding, my Mom passed away. We were on a family vacation celebrating New Year's Eve, my wife and I sharing a room with her and my father. At approximately 6am, I was suddenly awakened by her gasping for air and my father yelling her name. After administering CPR for over 30 minutes, she was gone. A bad interaction of prescribed medication from a recent surgery had stopped her heart while she slept; she was more than likely gone before we had ever started CPR.
I was 32 years old and my life was changed forever. I spent the next several days going through boxes and boxes of 4×6 prints that she kept stashed away, as well as all of our wedding photos. I always think about the fact that I don't have many photos of her during the last 10 years of her life since she was the one always with the camera and wishing I had taken more photos of her myself once I got into photography. It wasn't until after she passed away that I decided to follow in her footsteps and start photographing weddings.
June 4th of this year will be our 10 year anniversary, and I've been shooting weddings now for a little over 3 years. Little did I know at the time, but I was taught my greatest lesson in wedding photography on that warm sunny day in 2005. I have a responsibility as a wedding photographer. A very important responsibility to put my creative and artistic ego aside and put the same amount of effort into family shots as I do the more creative ones that I can use for showing off, blogging, and advertising. From the very first wedding I shot, I put the time and creativity into every family shot I take, as does my wife who second shoots with me.
I've often thought of reaching out to my wedding photographer, who I haven't spoken to since ordering my wedding album over 9 years ago, to say thank you. When I pushed him to stop taking family photos, he was persistent and did an amazing job at getting fun and creative shots of me with my parents. While I love the photos of my wife and I from my wedding day, the shots that are most important to me today are the ones that he took of me and my Mom. I still have very distinct memories of her from my wedding day, memories that seem as if they were from just days ago. The beautiful photos that my wedding photographer took of us together only help bring me back to that very special day when my mother was more proud of me than I had ever seen her in my life.
Brynn Davello is a wedding photographer, who like myself, lost one of her parents and wanted to share her story. Losing her father shortly after her wedding taught her a similar lesson, and she explains her thoughts on family photos. Here is her story, in her words:
Our wedding day was absolutely perfect. Above all else, we wanted our guests to have fun, and we succeeded beyond a shadow of a doubt. From my earliest hours, my dad has been my favorite musician. When I asked him to play his guitar as I walked down the aisle, he was grinning ear-to-ear. He ran to get the guitar he got for his 16th birthday, sat down and played something he had written. The feeling those few bars of music gave me was a bigger sense of "rightness" than when I tried on "the dress." My dad also wanted to bring his band to play for the reception… an ACDC cover band? Yes please!!
Music was a tremendous part of my childhood and life since. I'm the kind of person who has a theme song for life. I stressed over the perfect song to dance to with my dad. It ended up being Daddy Let Me Drive by Alan Jackson. It had been decades since we had actually danced together, and without any rehearsal or discussion prior to taking my hand, my dad led me into a Cowboy Two-Step.
Looking back at those photos, I am not just transported to the day of my wedding, but to the days when my dad taught me to dance on Sundays at the steak house, or on top of a houseboat at the lake. I can smell his cologne, I can feel the callouses on his hands from hard work and guitar strings. I can close my eyes and look up into his brilliant blue eyes and joyful smile. He smiled with his whole soul. Every single time. My sister and I got up to sing a song with him at one point and those pictures of us singing our hearts out and him watching us from around his mic with a look of the proudest dad in the world are now a treasure for me.
Less than a year after our wedding, on Father's Day, I got a call that my dad had been shot, and had died from his wounds. He had been out 4 months before to visit and help us move, but we had only taken cell phone pictures of each other. There were none of us together. The last photos we had were the wedding photos. We had two of them enlarged for the memorial service, both were with his larger than life smile and a guitar in his hands.
As a bride and a wedding photographer, I have been on both sides of the camera. I understand as a photographer that the family portraits are not the most exciting part of the day, and as a bride, I understand wanting to let my guests enjoy themselves. You cannot imagine that the people that are so healthy and happy can be taken away in an instant. Photographs cross the boundaries of time; connecting you to loved ones lost.
Conclusion
The truth is that our loved ones aren't going to live forever, and we have no control over when they go. It's a harsh reality, but you never know when the photo of you with your loved ones may be your last. While no one should have to think about these types of things on their wedding day, it's the responsibility of the photographer to make sure that the memories of family members are captured.
If you have lost a loved one, you know the value that a photograph of them holds. The memories it brings back, and how you wish there were more of them. I wish I had taken more photographs of my Mom while she was alive, but I didn't. These days, I don't take anything for granted and I take as many photographs of my family as I possibly can, especially now that I have a son. When I shoot a wedding, I always spend time with the bride and groom with their parents, taking emotional and story telling photos. I put thought into each shot, making sure the lighting is good, allowing their emotions to take over and ultimately become beautiful photographs. I never rush through them or simply have them look at me and say cheese.
As a wedding photographer, please remember the responsibility you have and don't slouch on family photos. Think about the memories that you would want to have saved if they were your parents.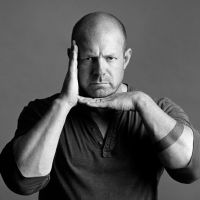 Jay Cassario
Jay Cassario is a fulltime photographer from South Jersey, owner of the multi-photographer wedding and portrait studio
Twisted Oaks, and Brand Ambassador for Leica Camera USA. WEBSITE:
Jay Cassario Personal Facebook:
Jay Cassario Business Facebook:
Twisted Oaks Studio Google Plus:
Jay's Google + Twitter:
@JayCassario