As photographers, we are particularly fond of golden hour– when the sun is just barely peeking through the horizon, or about to rest-up for the night. The shower of gilded light flowing through the landscape, making the world around us seem a bit more magical. Well, apparently we aren't the only ones that live for this type of treasure.
Photographer Simone Sbaraglia, has captured the essence of the playful sun-worshiping Gelada Baboons in Africa, who wake up before dawn and climb to the highest point of Ethiopia's Simien mountain range just to wallow in the sun's golden light.
[REWIND: Tips on Hunting Wildlife with a Camera with Charles Glatzer]
Sbaraglia spent three weeks with the Gelada– known as Africa's most sociable monkeys– following them around as part of the pack; and after time of gaining their trust, they started allowing him to get up close and personal.
One of the most impressive things we see in Sbaraglia's photo series, is how human-like the Gelada seem– either staring into the horizon, almost in pensive state taking-in the beauty of their surroundings, or posing like a happy tourist.
"I really enjoyed being close to Geladas and observing their behavior: the grooming, the babies playing and the occasional fights between males.
They like to spend the night on the cliffs to seek refuge from predators, so I use to wait for them to come out of their night nest before sunrise and then go back before sunset to wait for them to return. That is where I got the best pictures, showing the monkeys with the amazing backdrop of the Simien mountains.
I was fascinated by the location that these primates live in. I think this is what makes them special, so I was especially interested in portraying their habitat together with their special features, such as the long fur and the 'bleeding heart' that they display on their chest."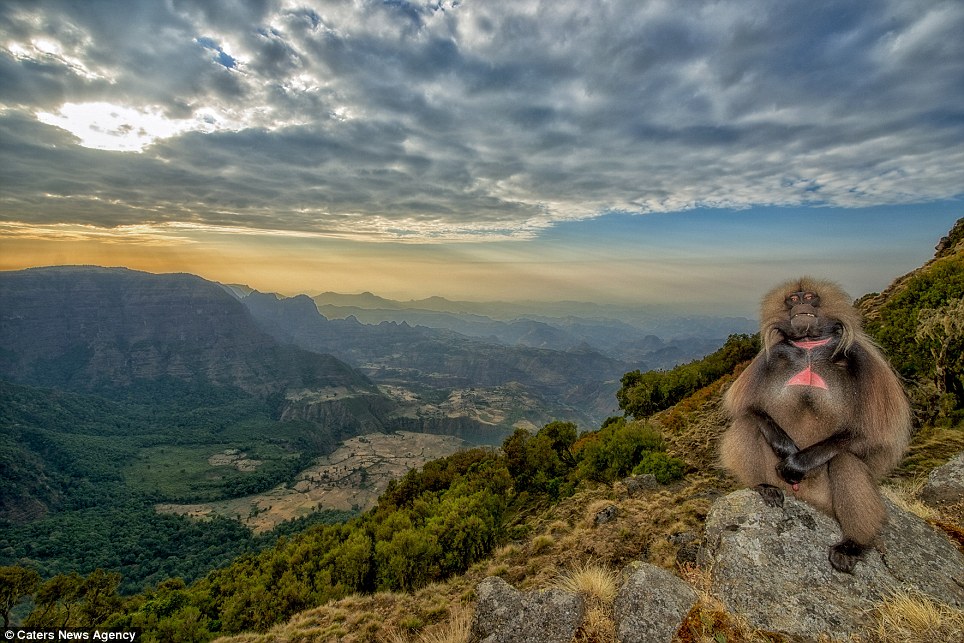 You can see more of Simone Sbaraglia's work on his website and Facebook.
What has been your most magical moment capturing wildlife?
CREDITS: Photographs by Simone Sbaraglia are copyrighted and have been used with permission for SLR Lounge. Do not copy, modify or re-post this article or images without express permission from SLR Lounge and the artist.
[via] Daily Mail
Michelle Bird
Michelle Bird
is a Southern California based freelance photographer and writer, with a strong focus on music, editorial and portrait photography. She is the founder and creative force behind the music+culture online blog
Black Vinyl Magazine
, and can often be found in the photo-pit shooting the latest concerts in town. She has a strong passion for art, exploring, vintage finds and most of all animals. Connect with her through
Email
,
Instagram
, or
Facebook