No doubt you've seen James Day's name, and at least his new most popular wedding photograph somewhere on social media, or on any number of television or Internet news outlets. You may also remember James Day and his viral "stunt" (and accompanying video) from a few years ago, where he presented his sister-in-law and her wedding-photographer-husband a wedding album on the same day they were married.
Recently, we had the opportunity to chat a bit with James to talk about his viral social media status, what drives him, and his advice for aspiring photographers. He's one of those guys who would give you the shirt off his back and he's a truly fantastic photographer!
What has been your experience with social media, Especially given All of your viral success?

It's been a bit of a crazy ride recently. Social media has been on my side it seems. I jumped on a plane to London and landed to find that a Facebook post had gone viral. At that point it was telling me it had reached a million people; as of right now it has 278k likes, 60,000 shares,  and over 10,000 comments.
I think the reason it went so well is because people are a little tired of the emptiness of the photos they see on Facebook: the duck-face selfies, the endless sunset shots, or shots of someone's lunch. I've always enjoyed telling stories alongside my images too, and this one was particularly sweet because not that long ago I was sent a screen shot of a bunch of photographers talking about how I should just shoot and shut up. So this was a bit of vindication for me that story telling is so important to what I do as a photographer.
You've only ever been a wedding photographer, which is a bit unique in the wedding photography industry. What's your favorite part about being a wedding photographer?

My favorite thing about being a wedding photographer? Ooh … maybe the fact that I get front row tickets to someone's best day of their lives so far. As a teenager I was a total dork and didn't get invited to parties, so having a career where I get to turn up to the best parties in town is quite the change! I also love the relationships that I am able to establish with my couples. I love forging mutual respect and understanding so that we can also have a bit of fun and can muck around together.
Back in the day, I attended a one-day workshop with Briars Atlas  (you should look him up because he's next level amazing!), and I remember the way he talked about how he interacted with his clients; it was really unique. He would invent words in his emails and purposefully relaxed his communication with them in a way that made his life, and their life, more fun. That was a big eye opener for me and was such a relief when I saw what a great client-photographer relationship looked like in a fun way. That's my goal and what I love about being a wedding photographer the most.
For photographers thinking about making a full-time go of photography or for professionals who need a bit of a boost because they're in a bit of a downward spiral … What's your best piece of advice?

My number one piece of advice for a newbie would be nail your portfolio, work on your personal brand, and work out how you can most clearly communicate your brand and what it is you'll do for your clients. I think the brands that do best are the ones who learn to communicate what makes them … well, them. And finally, if you're in a bit of a rut, remember to enjoy it. Photography is an incredible hobby and career. We take people on adventures of time travel and take them back to the best moments of their lives. How great is that?
And because we want the SLR Lounge community to get to know a bit about you as a person … How about describing your perfect day?

My perfect day? Well, it would start with bacon and eggs, feta and avocado. Actually, I'd eat some chocolate first upon waking up … a nice Belgian chocolate. I'd head to the beach, get some sun, go for a swim, and then sit at home watching "Designated Survivor" for a few hours (hurry up, Season 2!).
Can't get enough of James? We can't either!

Follow him on Facebook and Instagram. He also has a brand new website rockin' and rollin' here. And, finally, if you're quick enough you might be able to snag one of the last few spots at his nearly sold out workshop, "The Narrows." It's coming up August 13-15 in Lubec Maine, and it's co-headlined by SLR Lounge's own Jay Cassrio. Check it out here: "The Narrows."
All photographs in this article are copyrighted by James Day and have been used with permission for SLR Lounge. Do not copy, modify, or re-post this article or its images without express permission from SLR Lounge and James Day.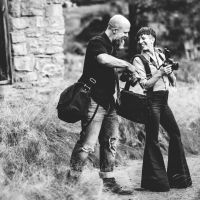 Amii & Andy Kauth
Amii & Andy are a wife and husband team of rad portrait and wedding photographers (Sunshine & Reign Photography) who absolutely love life and are generally just stoked! Yeah! When they aren't photographing or writing and teaching about photography, you'll find them off on a seriously legit adventure with their little ones, lifting weights in their garage, training jiu-jitsu, refining their archery skills, or surfing every chance they get. And on the rare chance they escape off on a "date night"? Yep! They'll find a wedding to crash (true fact). Website:
Sunshine & Reign Photography
Instagram:
@sunshineandreign