Storage for media is not as glamorous as a new lens or a new camera. The same excitement one would have opening up a new Tamron 24-70mm G2, would not be the same as a new backup or working drive; but that doesn't make it any less important in your workflow.
As photographers, we place a massive amount of trust on these traditionally plastic-clad devices. For twenty years the Glyph has been a go-to drive for music professionals looking for a reliable storage solution. As of late, they have concentrated more on the photo and video market with their Atom SSD and RAID devices. At this year's Photo Plus Expo, I got hands-on experience with their drives.
The aluminium-clad, M.2 based, rugged SSDs from Glyph can fit in a pocket or the corner of any bag. Sporting the latest USB-C 3.1 Gen 2, the Atom line of drives can reach speed up to 480 MB/s.
The Atom RAID from Glyph offers blazingly fast transfer speeds of over 800 MB/s. The Atom RAID is designed only at RAID 0 specifically for speed for large media projects. The Atom RAID is preformatted for HFS+ with Journaling, but can be easily reformatted for Windows environments.
At the PPE demonstration Glyph had a mix of 4K content from GoPro, DJI Mavic and other sources on a Final Cut Pro timeline. Without optimizations, or proxies, the sample footage didn't skip a beat as I scrubbed though the timeline.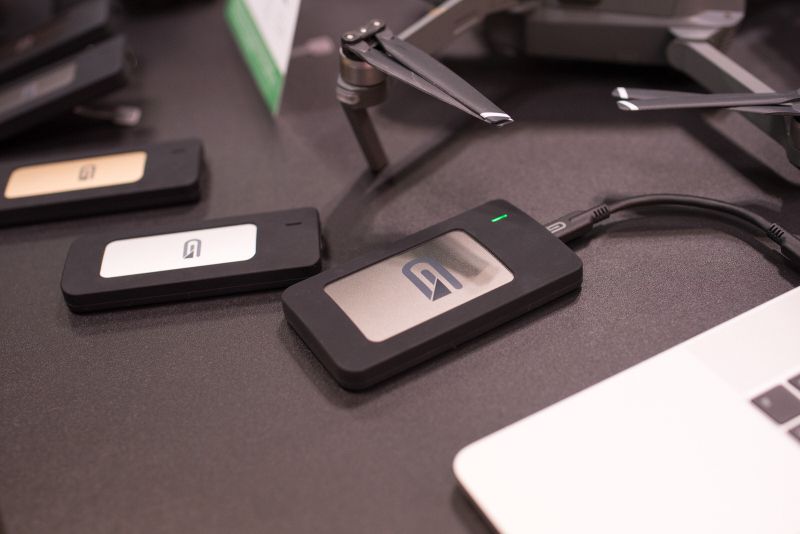 3-2-1 Warranty
Glyph's Rugged Atom SSD are designed, assembled and tested at their headquarters in upstate New York. Like the other products that they offer, the Atom line of drives is backed by their 3-2-1 warranty – that is three-year full hardware warranty (including cables), two-year Level 1 Data Recovery, and one year Overnight replacement.
The Glyph Atom Rugged SSDs are available in sizes ranging from 275 GB up to 2 TB starting at $160, here. The Glyph Atom RAID comes in either 1 TB or 2 TB varieties starting at $430, here. Each set is available in either black, gold, grey, or silver.
We'd like to extend a special thanks to B&H for their sponsorship of this trip, allowing us to bring you coverage of all the best and new from PhotoPlus 2017
Justin Heyes
Justin Heyes wants to live in a world where we have near misses and absolute hits; great love and small disasters. Starting his career as a gaffer, he has done work for QVC and The Rachel Ray Show, but quickly fell in love with photography. When he's not building arcade machines, you can find him at local flea markets or attending car shows. Explore his photographic endeavors
here
. Website:
Justin Heyes
Instagram:
@jheyesphoto